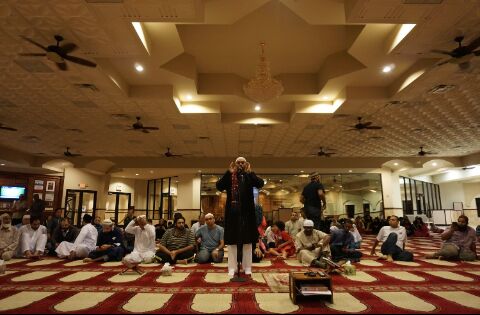 The smell of freshly baked Christmas cookies whirls through the air as you and your family snuggle up on the couch sipping hot chocolate and watching Buddy the Elf wander through New York City.
While this image sounds like the perfect winter night, it may not be a reality for many. The truth is that in such a diverse community, each individual has a unique way of celebrating his or her own holiday traditions.
Freshman Alexis Tacinelli adds elements of her Italian heritage to her holiday celebrations. On Christmas Eve, she and her family celebrate the Feast of the Seven Fishes in which they prepare a large seafood dinner for friends and extended family.
"My family is Italian, so we do this whole seven fishes meal where there is a bunch of fish we cook and there's a certain way to prepare it," Tacinelli said.
Senior Kayla Blatman celebrates Hanukkah, but has her own twist on the holiday each year.
"Hanukkah is based off the Jewish calendar which changes dates every year and a lot of times it's during the week," Blatman said,
"My family gets very busy during the week so we light the candles over the week and on the actual days, but we save all the presents until Christmas day."
Along with that, Blatman and her family come together at the end of the day and enjoy a family movie.
"We really love 'The Polar Express' as our favorite Christmas movie. They used to play it in IMAX at the [National Museum of Natural History] in DC, so we used to go every year and watch it there," Blatman said. "Then then they stopped doing that so we've just continued the tradition of watching it [at home]."
Sophomore Salam Chamaa celebrates Eid. Eid, according to Time and Date, is a Middle Eastern holiday celebrating the willingness of Ibraham (Abraham) to sacrifice his son to God. Sometimes known as the Festival of Sacrifice, it also marks the end of the Hajj pilgrimage in Mecca. Chamaa and her family prepare for Eid by doing henna, a temporary tattoo design of a flowering plant and getting an Eid outfit. Along with aforementioned above Chamaa and her family have their own additions to the celebration.
"Usually in my family, we make sweets the night before we celebrate and then we eat the sweets the day of and it's really good," Chamaa said. "On the day of Eid we do Eid prayer and celebrate with family."
Latin teacher Stacey Kenkeremath celebrates Diwali, an Indian holiday, also known as the Festival of Lights. Kenkeremath and her family have made their own tradition which was first introduced to her by her husband, who is from India.
"It's a big deal in India. It is a week long: there is a day you give presents, and to celebrate it, there's two things: [you need] lights and firecrackers," Kenkeremath said.
Kenkeremath and her family prepare many sweet dishes every year for the holiday.
"There is a fudge made out of chickpea flour called Burphee, and there are also these deep fried baby funnel cakes called jalebis," Kenkeremath said, "We have a big potluck with the family."
Along with that, Kenkeremath celebrates Christmas as well.
"Diwali does not go into December so I put the lights up for Diwali and leave them up until Christmas." Kenkeremath said.
Along with that she added that she cannot have a Christmas without stockings.
"My mother-in-law liked little gifts so she always did stockings on Christmas [and] that's it," Kenkeremath said.
Kenkeremath also added that she goes to her brother-in-law's house to spend time with family.
"My husband's brother's wife makes this wonderful Christmas dinner and her son is a gourmet chef," Kenkeremath said.
Over the years Kenkeremath has had a way of showing a caring nature throughout the Christmas season.
"It's not about what you're going to get; it's what you're going to give," Kenkeremath said when explaining what she taught her children when they were younger.
History teacher Mary Catherine Keating celebrates Christmas Eve with her family; this tradition was introduced to her by her father.
"We're Italian so it started with the Feast of the Seven Fishes, but it's more of a family tradition now-the big thing that we do is [go to]  an area in Pittsburgh called the Strip District," Keating said. "We wake up at five in the morning on Christmas Eve, go downtown and we hit all the vegetable markets and all the restaurants. It is just so much fun."
Keating and her family begin their day with a big breakfast at a diner (dive) type restaurant called Daluca's. "It's not Christmas Eve at the Strip if you don't see a roach at Daluca's," Keating said jokingly.
"We've been going there since we were kids, it's literally a dump, but the food is so good."
After that, Keating and her family start their shopping for both food and Christmas gifts.
"Each year, we have a contest on who can buy the tackiest gift for my aunt," Keating said. "We keep the tradition going, and whoever is in Pittsburgh [with us at the time] goes."