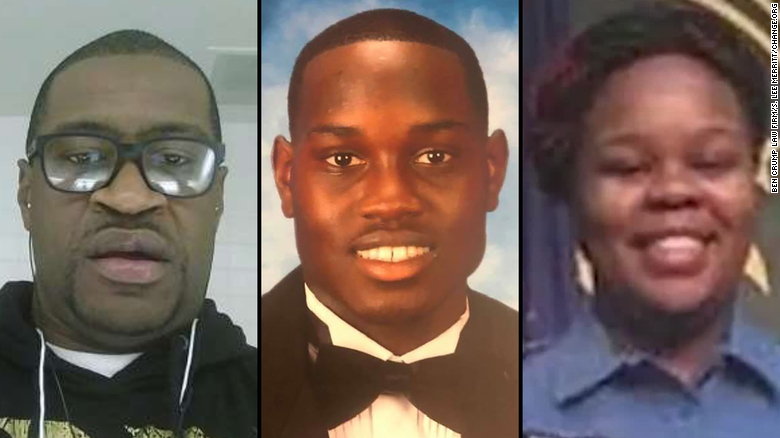 Three lives. Breonna, Ahmaud and George. One race. African-American. One cause. Racism.
Over the past few months, we have lost many black lives at the hands of white supremacists and police brutality. Why do I say 'many' when most of the public only hear a few names repeatedly? If you're dedicated to this cause like I, you will know that many blacks die behind the scenes from this exact same cause; only a few of them have had the privilege of being recorded and meeting the public eye. 
Let us observe the story of three African-Americans who have had their lives unjustly taken from them. If you do not know these three, know that Breonna, Ahmaud and George have incited a civil rights movement. 
Breonna Taylor, a 26 year old African-American woman was shot and killed in her own home by the Louisville police on March 13. She was shot not once or twice, but more than eight times. The Louisville police barged into her home on a "no-knock" warrant, allowing the police to enter her home without identifying or introducing themselves. In the middle of the night, police entered the home of Breonna Taylor undergoing a narcotics investigation. They suspected Breonna was housing a drug dealer who potentially lived within her neighborhood. When the police barged into her home unannounced, Breonna's boyfriend (Kenneth Walker) fired a warning shot at the police officers out of self-defense. It was then that the police fired several times at Breonna Taylor and shot her dead. No drugs were found in her apartment. Breonna was innocent. A certified EMT, an aspiring nurse, Breonna's life was cut short at the hands of police officers.
Ahmaud Arbery, a 25 year old African-American man was out on a jog in South Georgia on February 23. Shortly after, he was trailed and gunned down by two white men: Gregory McMichael, a former Glynn County police officer, and his son Travis McMichael. Gregory McMichael told the responding officer that him and his son chased down Ahmaud because he resembled a man accused of residential break-ins. I suppose black men and women always "fit the description" of unidentified criminals. Ahmaud was unarmed while these two men chased him and shot him dead. 
George Floyd, a 46 year old African-American man was arrested by Minneapolis police officers on May 25. Charged with purchasing cigarettes with a counterfeit $20 bill, George Floyd died minutes after he was arrested. Derek Chauvin, a white Minneapolis officer, cuffed Floyd and pushed him face-down on the pavement, keeping his knee on Floyd's neck for eight minutes and 46 seconds. Chauvin did not lift his knee once Floyd was unconscious; he lifted it minutes after the ambulance arrived. While at first, Chauvin was arrested on an account of third-degree murder, he was recently upgraded to second-degree murder, labeling his act towards Floyd as an intentional one. This charge is rightfully placed when you regard that Floyd repeatedly told the officers "I can't breathe," and gave them other indications of his waning life. The other three officers present during Floyd's death were fired from their jobs and now face charges of aiding and abetting murder. George Floyd, regarded as a "friendly giant" by many of his peers and family, was the last straw for African-Americans across the nation. He revived the "Black Lives Matter" movement stronger than it ever stood before. We are now in the midst of a civil rights movement, witnessing protests and riots all across the nation. 
Truthfully, police brutality has been going on for centuries. Ever since the Great Migration led to the relocation of millions of African Americans into urban areas up north, white police departments reacted to their presence with fear and hatred. In order to uphold white supremacist ideals, northern police departments assumed that African Americans (men especially) possessed inherent criminal behavior, and thus, they were kept under close surveillance and were often brutalized. However, in the twentieth century, many of the local white-owned newspapers did not cover incidents of police brutality against blacks, and as a result, many blacks died without even reaching the news headlines. Today, the exact same thing is occurring—many incidents are still swept under the rug. However, more incidents are fortunate enough to be recorded and brought to light on social media platforms and newspapers. So with time, we can hopefully put an end to this racial injustice for once.