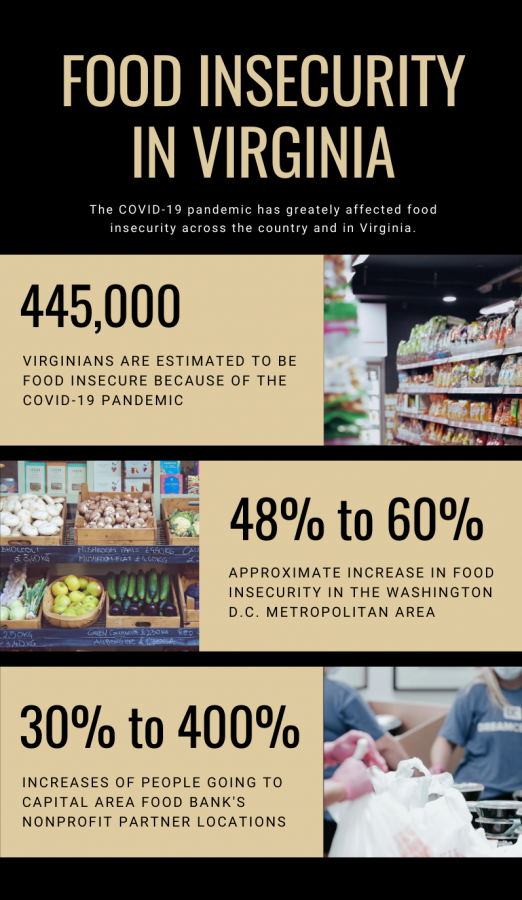 Catherine Xu
Millions of job losses due to COVID-19 have fueled yet another deadly issue: hunger. Food insecurity in U.S. households has more than doubled during the pandemic according to a research report by Northwestern University. Many food pantries across the nation have struggled to meet the sudden surge in demand for food goods and other necessities while enforcing safety precautions. Food banks like West Fairfax Christian Ministries (WFCM), extended their outreach to cope with demand. 
"During the pandemic, we have expanded our food distribution to provide supplemental food in neighborhoods with high numbers of clients in Chantilly and Centreville, and participated in Farmers to Families food box distributions in the Sully District," WFCM executive director Harmonie Taddeo said.
WFCM operates a client selection food pantry with mandatory safety measures like plexiglass, gloves, face masks, temperature screening and social distancing. Taddeo added that in April, WFCM served food to 551 families compared to their normal monthly serving of 400.
In addition, they also provide financial assistance to help struggling families pay their rent and utilities. In the first four weeks of increased need, WFCM gave over $64,500 in rent and utility assistance, which is over $50,000 more than its usual monthly spending, before the Coronavirus Aid, Relief and Economic Security (CARES) funds became active in June, according to Taddeo.
"Our supporters, volunteers and donors are very important to keeping our operation running during this challenging time," Taddeo said. "We are thankful to be in a position to help as we have seen the need for food and financial assistance increase during the pandemic."
Other local food banks such as Dulles South Food Pantry (DSFP) have completely altered how they serve food. DSFP has switched to curbside delivery to uphold safety precautions. Workers in the building wear face masks and sanitize surfaces regularly.
"When the pandemic hit, we knew it would be more important than ever for us to remain operational for our guests," DSFP executive director Meg Phillips said. "There were a few hiccups the first week after we moved to our curbside model for distribution, but we tweaked the process a bit and it has run pretty smoothly since then."
Although DSFP has had to limit the number of volunteers on its property, the community has come up with various ways to support the food pantry. Phillips adds that there have been food drives, kit drives and donations from businesses giving a percentage of their profits.
"We have truly seen the best of humanity over the past seven months. The community has always been supportive of DSFP, but now they have taken the support to a whole new level," Phillips said. "From little ones doing a food drive on their street to crafty people making blankets and masks for our guests, everyone truly can make a difference. It has been heartwarming."
Food banks like DSFP and WFCM need even more support than before to continue helping the community. Find the list of needed food items to donate at DSFP here and at WFCM here.