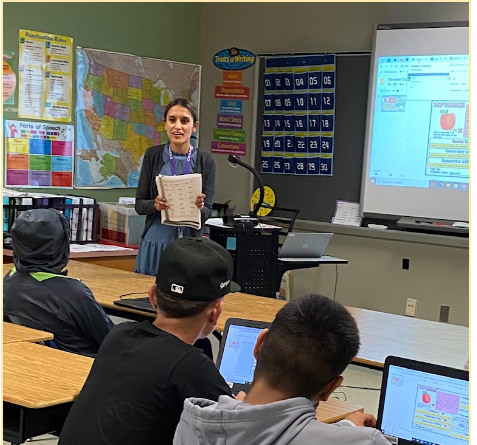 Cristy Ryman
English for Speakers of Other Languages (ESOL) is a class offered to students here at CHS, for those who have language barriers. Cristy Ryman is teaching this class to all grades this year. She previously taught at Loudoun County and Winchester Public Schools, as well as teaching university courses in Colombia, South America. She loves learning languages and enjoys sharing her passion with her students.
Why did you choose to teach kids, and specifically why did you choose to teach ESOL? 
 I love to work with kids. I also love languages and thought it would be nice to combine the two by helping students develop language skills.
Why do you think ESOL teachers are important? 
We have a lot of cultures here in CHS, so it is important to have something in common. I feel like developing languages makes us closer and strengthens communication.
What do you find most fulfilling about this job?
 Helping students and helping them develop a love for languages like I do. I find it very fulfilling and inspiring.
What are some of the challenges that come with teaching this subject?
 A lot of the time, what we do is misunderstood by others. I also feel that sometimes  I don't have [the] proper materials for my students, so I have to work extra hours.
How do you think you make a difference in the lives of the kids that you teach? 
 I help them succeed, because they need to learn other languages to succeed in this country. It is something that they will be able to carry with them.
Donate to The Purple Tide