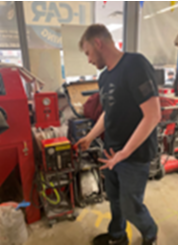 Ryan Byrne
With years of experience fixing cars, Ryan Byrne is a new auto body teacher who has joined CHS to teach others on how to fix cars.
What is the best thing about your job so far?
So far, the best thing about my job is being able to teach kids that have never really touched cars or tools before, so they can pretty much learn from the ground up. Let's say they need to do maintenance on their own car, they can go ahead and apply those skills. Let's say they want to go into the business, I have partnerships with local collision centers and everything, so I can get them a job if they want and then that way they can go out into the field and use the knowledge that I've given them to go ahead and excel. You can make good money in this field. 
What training have you had to get this job?
I'm a product of this program. I took all three years of this. Then after high school, I went to Northern Virginia Community College and got my GM training to be a Highly Trained Automotive Technician. I've had Gold Level training for General Motors cars, so your Cadillac, Chevy, Buick and anything like that. I also have an associate degree. I am I-CAR certified, which is a field certificate for working on cars it breaks down into like plastic repair, metal repair and all that. I also have ASE certifications, which is just another branding of certifications for the field. You have to be certified to work, and you get more money in the shop. The more certifications you have, the more money you get, so collecting them is like collecting Pokémon cards.
How do you imagine a typical day as an auto body teacher?
Because this was my first-year teaching, the first day was kind of wild. I had everything set in my mind on what I wanted to do and what I wanted to say; Then when I got up here at the podium, and I looked out at the class, I just went blank. On a typical day, what we do is we come in, and at the beginning of the year, the kids must take safety certification tests online. They're not held responsible or something like that. But other than that, I like to have hands-on training. Pretty much if a car gets into a crash, we can fix it all the way back to how it left the showroom floor. It's a very busy day here.
What was the most difficult auto body work you've done so far?
When replacing a rear frame rail on a 2022 Dodge Charger, you must cut the entire car apart. The roof comes off the car, the side panels and the floor come out and the suspension gets dragged. The whole interior of the car is taken out, so your rear seats, your carpet, your dashboard, everything inside of the car, all the doors come off, all the glass comes out, your back glass windshield everything comes apart. And that's not even half of the worries. You must cut the old panel out, but you cannot damage any of the good material that you still have left because you still need to use that to weld on to or repair. Then after that you must there's an alignment machine pretty much but it's a frame machine. It's to measure out the frame, make sure you drive straight. So, it's very critical that you make sure you line everything up. So, as you line it up, you have these live pinpoints, and it will tell you if you're in the measurement or without the metric. So, it's very precise work because small things can turn into big deals at the end. And you always must test everything. So, before you go well something in you must get the whole entire car back together. So that way, you know if you weld it right, the whole car goes back together correctly.
 How much were you influenced by the auto collision class you took at CHS?
This corporation started when I was young. My dad likes to build race cars. He has a lot of race car friends and what not. Usually motor and transmission breaks over the weekend and we just stay up late nights in the garage. Everyone just had a party in the garage, fixing cars all night long. When I was able to get my permit to drive, that's what really got me going. I really wanted my first car, so I just bought my first car when it was $950 and I just fixed it. It had a couple problems, so I fixed it up and drove it. Ever since then, I just love driving and I would drive anywhere. I really enjoy cars and I get enjoyment out of it. It's very fun. 
Is that what inspired you to get out into the shop while teaching?
 I never really had that in mind until Mr. Brown (the old auto collision teacher) texted me that he was retiring. When I left this program, I was messing around with him. I was like, 'oh like I'll come take your job after' and just kidding around and everything. Then one day I was working, and he called me up and was like 'now's your time to shine. I'm retiring so if you want the job, I can put a word in for you if you're interested. why not give it a shot and see how it goes.' I never saw myself teaching here when I was younger, but here we are.  
What's the coolest car you fixed? 
A Ferrari 458 or Lamborghinis. Corvettes are another, those are more common, but mostly Ferraris. On Friday, we would work on Bentley SUVs over the weekend. I built a 1982 Chevy Seaton, an older truck, and I repaired every single wire out of the truck. I built the motor myself, completely torn apart in my garage, rewired the truck, new motor, new transmission, and I just drove it for fun. Recently I've really gotten into classic cars, so I went out and bought a 1953 Chevy Bel Air and it needs a lot of work. Before you start it is like a huge project and it looks ugly, and at the end, you can see what you have done. You don't know how it's going to look when it's done, but in the end, it comes out the way you want it to, so you pretty much customize whatever you want.
Anything else that you would like to share?
I really liked welding. We have a virtual welder inside the classroom so my students can get a little bit of hands-on experience before they go outside to welding knives. We also have steel welding tools, aluminum shows and different types of metals, especially the ones coming out nowadays. We have the Ford F 150s. And Ford, by themselves. Shops are mostly prone to aluminum, so a lot of the cars are aluminum, so you must study and learn things because part of the manufacturer is always coming out with a new or different way to do something. I may have learned how to do something in one year. They may have totally changed the concept now because maybe the material is different, or they changed something that you need to know. The real way to learn here is hands-on, so I don't like being in a classroom. I like being out in the shop and getting my hands dirty pretty much.
Donate to The Purple Tide