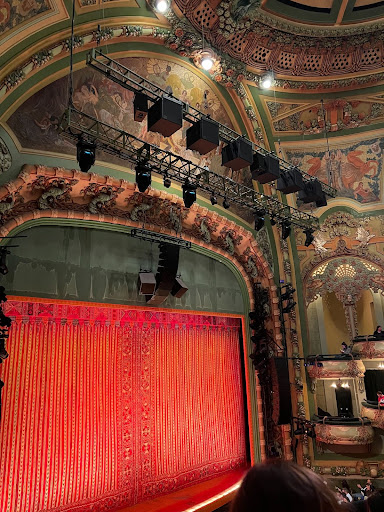 Touring Broadway shows bring magic to Kennedy Center
Well known for its historic landmarks, Washington D.C., is also home to diverse touring Broadway shows. Every year, the capital city hosts Broadway hits appealing to a wide range of audiences, from theater enthusiasts to young children. Students can look forward to a season of shows in the Kennedy Center for Performing Arts featuring popular storylines and award-winning actors.
Disney's The Lion King
June 21 – July 29, 2023 in the Opera House
Since its debut on Broadway in 1997, "The Lion King" has been a popular Broadway musical through the years. Based on the well-known Disney animated film of the same name, the show presents the story of Simba, a young lion prince who must discover his destiny as king despite the many challenges that come his way. 
"I think a part of the reason that I enjoyed the production so much was because it was extremely easy for me to understand," freshman Claire Youk said. "I went to see the show with my family in New York during winter break and was already really familiar with the story and also knew all the music, which let me understand it to a greater extent."
The storyline is accompanied by some of Broadway's most prominent music artists and lyricists—Elton John and Tim Rice. The artists' music ranges from the "Circle of Life" to "Hakuna Matata," filled with unique instruments and melodies.  
"My favorite song was 'The Circle of Life,' the opening number, because the animals and people came through the audience to get to the stage, which was just so cool," Youk said. "It was hard to remember that the music was live because it had so much depth and so many parts to it, which made the whole event even more impressive."
With more than 100 million people around the world having experienced this Broadway show, tickets are limited. Viewers can  book tickets on the official Lion King website. A winner of six Tony Awards, including Best Musical, this show continues to be a must-see for Broadway fans of all ages according to Youk.
"I definitely recommend this show because it's perfect for all ages," Youk said. "Even my grandma, who doesn't speak English, enjoyed it."
1776
June 27 – July 16, 2023 in the Eisenhower Theater
For history lovers, this Tony Award-winning Broadway musical is a possible choice as it recounts  the summer of 1776 that changed American history as it tells the story of the events preceding the signing of the Declaration of Independence. It follows John Adams, a Massachusetts delegate who was fed up with living under the tyranny of British rule, as he persuaded his fellow Continental Congress members to spark a change.
"
I never found learning history to be that interesting, but this show portrayed our American history in such a fascinating and unique way that I was captivated.
— sophomore Jenna Abi Jouma
"My family has always really been into history and I feel like I know a lot about this topic through history class which made it an easy and fun watch," sophomore Jenna Abi Jouma said. "My family always knew a lot, but I never found learning history to be that interesting, but this show portrayed our American history in such a fascinating and unique way that I was captivated."
The musical is well-known for its diverse cast that portrays one of the most important events in American history, according to the Kennedy Center. It offers a music-filled way to learn about the struggles and triumphs of the Founding Fathers that fought for the independence of the United States through music by composer Sherman Edwards.
"I think the music is what always brings a Broadway show to life," Abi Jouma said. "The lyrics always carry a significant meaning and always maintain the true meaning of the play which is incredibly cool to see as actors are able to present their lines in so many different forms."
Despite being a fictionalized version of the events, with its patriotic themes, "1776" is a popular Broadway show that is now being featured in the Kennedy Center this summer.
Moulin Rouge! The Musical
August 2 – September 24, 2023 in the Opera House
Based on a 2001 film of the same name, this musical premiered in 2019 and was set in Paris in the late 19th century. "Moulin Rouge" tells the story of Christian, a new writer, who falls in love with Satine, a cabaret actress and star of the Moulin Rouge show. 
"This Broadway show was unlike any of the other ones I had seen before," sophomore Aniqa Ahmed said. "It had a blend of romance and tragedy featuring many different elaborate costumes which really brought the production to life."
Directed by Tony Award winner Alex Timbers, "Moulin Rouge! The Musical" explores a world of riches and romance filled with glitz and glory. Additionally, it features popular songs by renowned artists including Lady Gaga, Katy Perry and Elton John. However, the display is not limited to music. 
"The dancing definitely stood out to me in this musical," Ahmed said. "I am also a dancer, so I was able to really take in the high-energy choreography and it was really interesting to see how each dance helped bring out the music even more."
The winner of ten Tony Awards, this musical is coming to the Kennedy Center to be seen by the DMV public. Recommended for ages 12+, tickets for this production are available on the Kennedy Center website.
"This show was one of the best Broadway shows I have ever been to," Ahmed said. "It was nothing like I had expected and was definitely more mature, but from the wide range of vocals to extravagant sets, everything about this musical was mesmerizing."
Donate to The Purple Tide