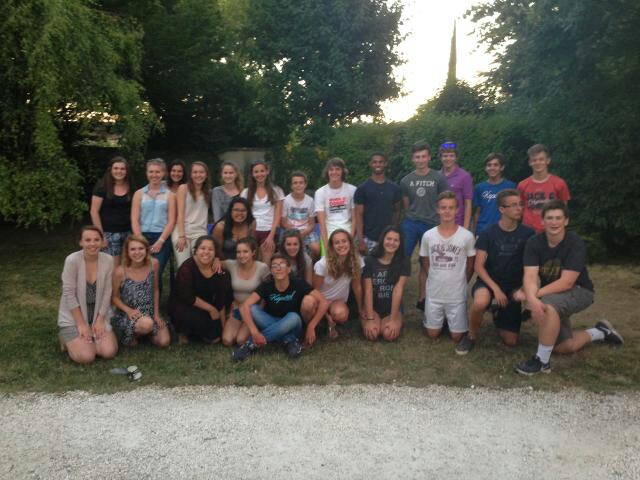 Students Cross Ocean for French Exchange Program
September 30, 2015
In the coming month, the community will feel the presence of a group of exchange students from France. In an effort to learn about the different aspects of French and American culture, students visited the sister town of Chantilly, France over the summer while French students will be visiting Chantilly, Virginia starting Oct. 10.
Junior Sofia Gonzalez took part in the trip to France and considers it one of the best experiences of her life.
"My host family was so sweet and they did everything for me," Gonzalez said. "We still talk a lot and the [daughter of the host family] is coming [here] in October."
By switching hosting responsibilities, Gonzalez and her foreign exchange student can share and learn about the daily lives of their respective cultures. However, many students are skeptical to visit a foreign country or host a foreign exchange student due to the language barrier.
"I was really hesitant because of the language separation and I was nervous I won't be able to communicate with them, [but] it was bearable since my host girl spoke some English and I spoke some French," Gonzalez said.
French teacher and sponsor Mary Bouchet understands students' hesitation but still encourages participation in the program.
"I think there is a little bit of fear [but] it's not difficult at all to become a host family," Bouchet said. "You just have to want to open your home, be open to new cultures and making new friends."
Some students have even been waiting for the opportunity to host a foreign exchange student for a long time.
"A couple years ago, my sister was going to host a girl, but on the day they were supposed to fly in, something was wrong with her passport so she wasn't able to come," junior Vienna Husson said. "Ever since, my sisters and I have always wanted to host a foreign exchange student."
During their two-week trip to America, the students will be shadowing their host for two school days, tour the nation's capital and conduct a research project about the connection between Chantilly, Virginia and Chantilly, France.
"[Many students claim that hosting a foreign exchange student] is one of the most memorable and meaningful experiences that they could have in high school," Bouchet said.