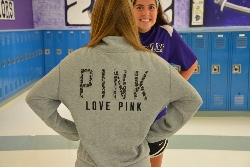 Think Pink
September 30, 2015
According to the National Breast Cancer Foundation, breast cancer is the second leading cause of death among women. The World Health Organization states that it is the most common cancer worldwide.
Most of us know someone who has been touched by the disease in some way, as one in every eight women is diagnosed with breast cancer. In the United States, that equates to 220,000 women being diagnosed and over 44,000 dying of the disease each year. While breast cancer is rarer in men, 410 men die each year.
The American Cancer Society recommends that women get their first mammogram at age 40 and retake the test annually. Early detection of the disease is the key to recovery.
"I'm a big advocate of mammograms," breast cancer survivor and photography teacher Betty Simmons said. "I tell every woman I meet to make sure they get one."
People who do not have cancer can join the fight against it by raising awareness, donating money, volunteering at local events, participating in walks and runs or even setting up donation pages in conjunction with a particular fund that can help raise money for researching a cure.
"There is always the option to donate to the Avon 39 walk or to other organizations that help," senior Caris Chapman said.
Events like the Susan G. Komen and the Avon 39 walk help fundraise research,  raise awareness and honor breast cancer survivors.
One of the walks for breast cancer is Avon 39, which began in 2003. People can participate in this 39-mile walk alone or with a group for two days. Washington, D.C. is holding the Avon walk from April 30 to May 1, 2016. To date, 207,000 walkers have taken up the challenge, walking a total of 6,868,000 miles and raising $550 million dollars.
Caris Chapman's mother has walked in the Avon 39 for the past two years in memory of Chapman's grandmother, who passed away from cancer.
"My mom really wanted to help support her and all people that suffer from cancer," Chapman said.
Another popular local breast cancer awareness event is the Susan G. Komen Race for the cure, which will be held in Washington, D.C. on May 7, 2016. It is a 5K walk/run within the city and was first held in 1983. Now, there are over 150 races globally and over one million people participating. The website has already opened registration for the 2016 event.  
Being aware of risks for breast cancer based on family history and personal health can make a huge difference in the fight against cancer.
"I am very lucky. They caught my cancer at a very early stage," Simmons said. "Have the special women in your life gotten theirs [mammograms]? You should ask them. If they say 'no,' tell them Ms. Simmons would really like them to."