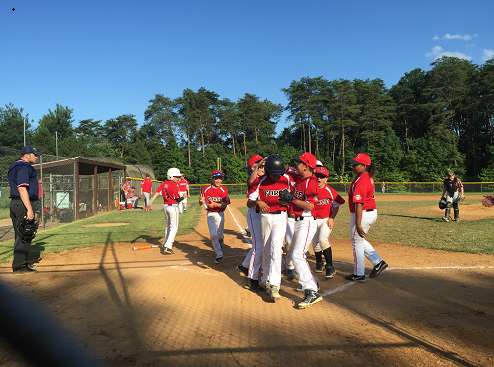 Athletes Play Travel Sports During High School Offseason
October 28, 2015
Travel sports provide athletes with the opportunity to continue playing, even during their high school offseason. The purpose of these travel teams is to help players keep in shape for their sport. Players of all different skill levels can be part of a travel team, as there are many levels of competition available in this area.
In recent years, travel sports have become more popular and important in the process of getting noticed for a college scholarship. Many successful athletes began playing travel sports at a young age. For example, Chantilly Youth Association basketball offers three travel basketball teams at different levels, beginning in the fifth grade. Additionally, the Chantilly travel baseball program begins at nine years old, but some organizations also include team for eight year olds.
Travel teams differ from the high school teams in many ways, as they have no boundary rules. Some teams are part of a program, but others may be put together independently. Teams decide which tournaments they want to play in and, depending on the league, when they play games.
Athletes have differentiating opinions on whether they enjoy playing travel or high school sports more, based on many factors including travel, pressure, and which they may find to be more fun.
"I prefer AAU [amateur athletic union] [instead of high school basketball] because we get to play in tournaments," sophomore and basketball player Jay Athearn said.
Unfortunately, AAU basketball has fallen under much criticism in recent years. Primarily, some athletes and parents claim that coaches do not teach the fundamentals of the game properly.
"I like high school [baseball] better because there is less pressure: in travel we play in front of a lot of scouts," junior and JV baseball player Cameron Boddie said. .
The primary purposes of travel baseball for upperclassmen are to get better as a player and get noticed by college scouts. It gives players opportunities to showcase what they can do, but it puts pressure on the athletes to perform well to make a good impression. This is especially challenging in baseball because you may only get a few opportunities in the field and plate for the entire game.
Another sport that it is common to play outside of the high school team is soccer. Instead of the term "travel", it is usually referred to as "club".
"Club [soccer] is better, because there is more flexibility," senior Joey Reid said.
Many soccer players at different levels play club soccer. Club soccer, which is effectively the same thing as travel for other sports. At higher levels, soccer is a year-round sport, with club games in the summer and fall, indoor practices and games in the winter and high school games in the spring.
"Travel baseball has prepared me for high school baseball because it gave me experience against better competition," Freshman Charlie Cavanagh said. Travel sports are preparing athletes for high school sports, and they should continue to do so in the near future.