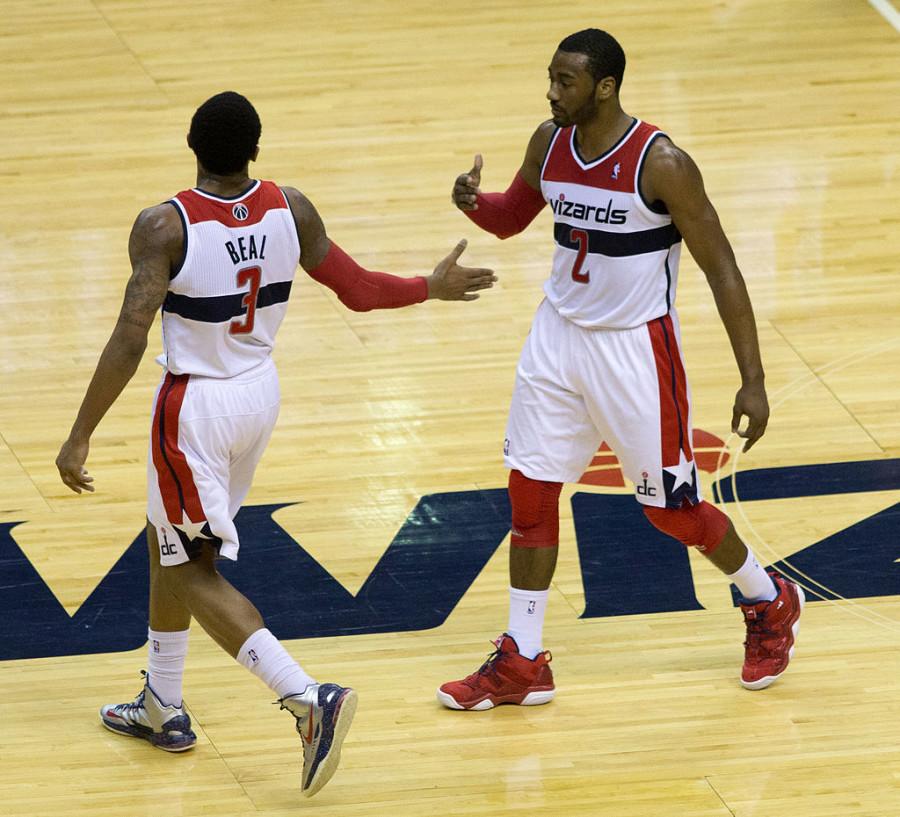 Washington Wizards Season Preview
Wizards look to take their game to the next level this season.
December 7, 2015
"Swish" should perfectly sum up the Washington Wizards this season. The team has made it into the playoffs in the last two seasons as the fifth seed in the Eastern Conference, but they should improve on that this season. This year, many expect the team to take the next step, and rightfully so. They are healthy and even more talented than in past seasons. For these reasons, many students expect the Wizards to contend with the NBA's best.
"The point guard, shooting guard and small forward [positions] look really good with [John] Wall, [Bradley] Beal and [Otto] Porter," freshman Derek Smith said.
The team will once again have one of the better backcourt duos in the NBA this year with Wall and Beal. Wall is clearly one of the elite players in the NBA. In his six-year career, he has averaged a robust 8.5 assists and 17.6 points per game. Beal is joining the NBA's elite as well. In his three NBA seasons, he has averaged 15.6 points per game.
The additions that have been made to the team this season improve their playoff outlook. The most notable newcomer is veteran small forward Jared Dudley. Dudley is an excellent addition by the front office because he will provide leadership and a good basketball IQ in addition to his excellent defense. The veteran of 10 NBA seasons has averaged 8.5 points per game throughout his career with Charlotte, Phoenix, LA Clippers and Milwaukee. The team also selected rookie shooting guard/small forward Kelly Oubre Jr. from the University of Kansas with the 15th overall pick in the 2015 NBA draft. The selection of Oubre was an excellent pick because he has the potential to be a great contributor for the Wizards, a value hard to find in the middle of the first round.
Despite the Eastern Conference looking stronger this year, there is no team that really looks unbeatable, excluding the Cleveland Cavaliers, who are led by superstars LeBron James, Kyrie Irving and Kevin Love. Even so, an unexpected acquisition, similar to the Marcin Gortat trade from 2013, which was completed during the season, could be all it takes for the Wizards to top the Cavaliers in the playoffs.
Despite a slow start with a record of 8-10, look for the Wizards to make some noise as the season goes on, and make a push for the playoffs. If they play to their full potential, the Wiz can possibly take the next step to become one of the top teams in the Eastern Conference and the NBA.