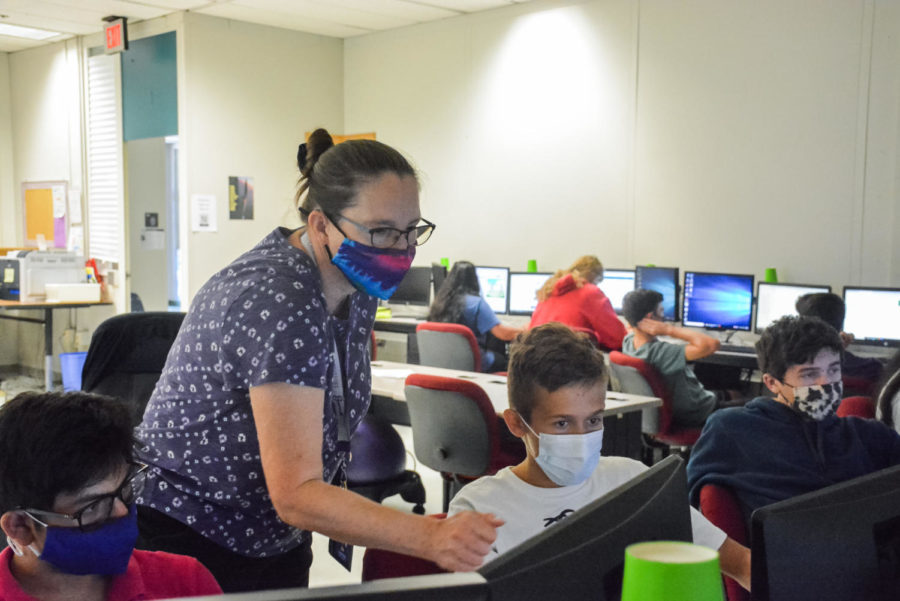 Cynthia Belsky
As the mother of several CHS graduates and the wife of a former CHS volleyball coach, Cynthia Belsky is not entirely new to the school. She graduated from University of California, Berkeley and has a humanities field degree with a concentration on equity.
Was there a moment in your life that made you decide you wanted to be a teacher?
I'm a career switcher, so I worked in IT for many years, but I wanted to spend more time with my kids. The workweek was anywhere between 60 and 80 hours [in my previous IT job]. Because I teach IT classes, my content changes every year. I'm constantly learning new things, but I still get to choose when I'm working, [whether] I get up at 7 a.m. [or] stay up—it's no longer dictated by someone else's project.
How is CHS different from your previous school?
Chantilly just has a special sense of community. It's not just the relationship the students and teachers have, but the community in general. The fact that we have teachers who used to be students [is] pretty unique. Our performing arts department is also willing to do the Holiday Spectacular, [an event in which] orchestra, band, choir and theater share the stage. It's a lot of work for those departments, but the community loves it.
Do you like Chantilly so far?
Somebody asked me, "So are you happy here?" 
And I said "Yep." 
She goes, "No hesitation there?" 
I love the people and the camaraderie here. 
Teachers are paid less than most professions. Why do you think that is?
I think society doesn't value teachers and doesn't realize how much more teachers teach than just reading, writing and math, like it used to be 100 years ago. We teach soft skills; we teach how to manage your time, how to prioritize [tasks], how to actually listen and how to be respectful. We teach a lot more because the workplace demands more [values] such as social and emotional skills.
What are your hobbies other than teaching? 
I'm a gamer. I have probably [played] close to 800 hours on Zelda Breath of the Wild [and] 500-600 hours on Animal Crossing New Horizons. I [play games] every day—it's my relaxation. I also love to read. I devour books and I cook. I like to say that I'm a geek that loves to be outside because I love to go camping and hiking.
Donate to The Purple Tide