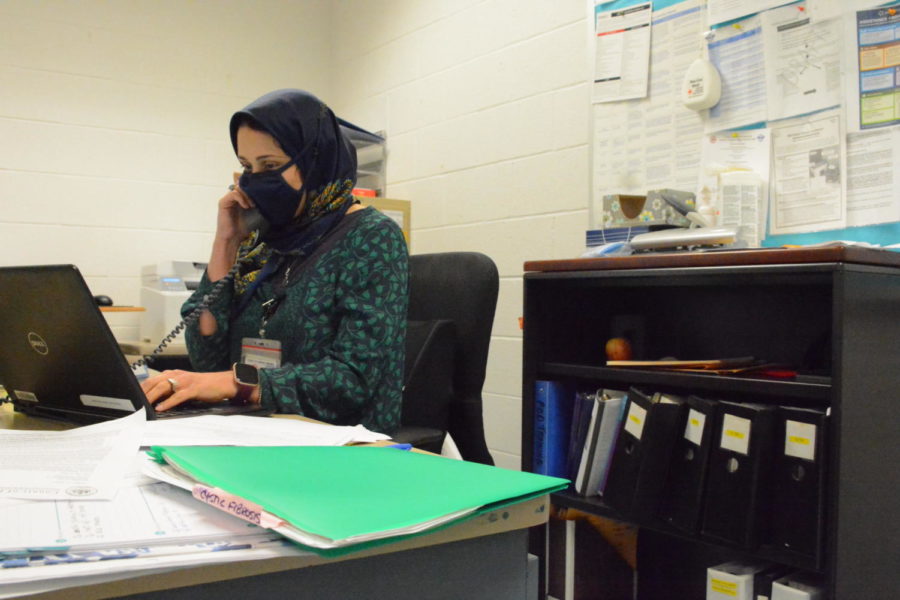 Aminian Ramissa
In her 13th year of nursing, Aminian Ramissa joined multiple Fairfax County Public Schools as a public nurse, one of them being Chantilly High School (CHS). She is honored to be serving CHS right now and really enjoys the experience.
What is your favorite aspect about the school?
I love the fact that CHS is the largest high school in the county. I also love [the fact] that it has a variety of resources for students [and] the Academy programs. The school population is very diverse, multicultural and accommodative to parents [and students] of different backgrounds, which is great to see. The school staff and teachers are all professional and wonderful to work with.
How has the coronavirus had an impact in your career?
[Last year was] very challenging. I was deployed to the COVID-19 response with the health department for about a year, since the school closed from March 2020 until April.
Where were you before coming to Chantilly?
I lived in Loudoun County [for] the past 8 years I have worked in the School Health Program [for the] Fairfax County Health Department. So far, I have worked in multiple schools from [all grades], including Fairfax High School. I am currently working in Chantilly, Brookfield Elementary School, Lees Corner Elementary School and Oak Hill Elementary School.
What are some of the best experiences you have had in your nursing career?
I have had many fun experiences throughout my career. One time, back when ebola was [prevalent], there was a kindergarten student who ran to the clinic while holding his eye, saying, "I think I have eyebola." 
Where do you see yourself in 10 years?
I like to try different positions in the health department to serve the community [in the best way] I can. Although I really like CHS, I will probably not be here 10 years from now.
Donate to The Purple Tide