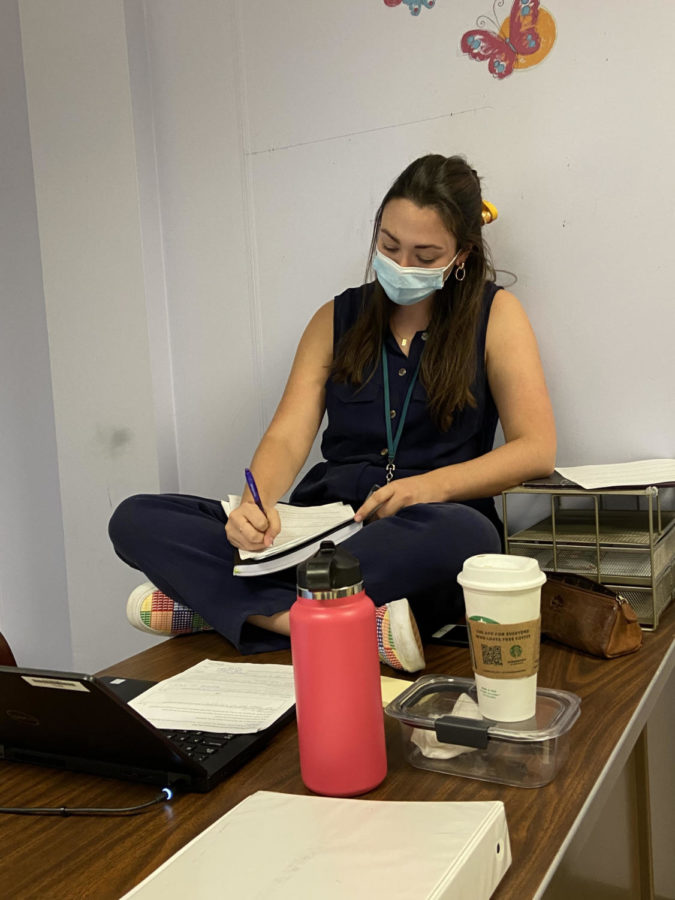 Mae Basl
After teaching elementary school students last year, special education teacher Mae Basl has entered the new realm of high school. Her transition to CHS this year has made a big impact in her life. 
Why did you decide to teach at Chantilly?
I got a degree in psychology, and after that, I just wanted to figure out how I wanted to work and what environment I wanted to work in. I definitely want to work with people, and I happened to get a special education instructional teaching job with my degree. I was an assistant teacher for an elementary school and I fell in love with it. I could connect with my students and teach them in ways that's personal to them.
Did you plan on becoming a special education teacher?
I didn't get out of high school thinking that I was going to be a teacher. I went to community college and got an associates degree for pre-nursing. Later, I came to George Mason to study neuroscience, and then I changed to psychology. I've really just been navigating based on a simple idea of what I want to be doing, which is to help people. This is my first year as a high school teacher and it is also my first year as a teacher instead of an assistant. 
How is the new environment of Chantilly?
I was joking the other day, "Oh my gosh, I'm going to walk through a hallway of students that are going to be my height or taller." That's overwhelming because everyone in elementary school is short and you can see everything. Here, I'm lost in a sea of people. The content itself and the materials of teaching are more complicated. It's kind of a cool balance of a challenge where I'm learning how to teach this material and help students connect the ways I've struggled to connect. 
Do you prefer teaching elementary or high schoolers?
I definitely always had a preference for older students. I think there are more conversations that I'm interested in. I enjoy learning about students more because you guys are more complex. I want to be a therapist, it's my angle. So the more people I can connect with, the better. 
How is the new teaching experience?
I transitioned here around the middle of the beginning of the school year, which is not the most ideal. With that being said, the support was phenomenal. Especially in comparison to my last school, everyone is so positive and they have been there every step of the way. I never feel like I'm rushed to do everything. I just felt so welcomed. In short, so far, it's going pretty good.
Are you planning on staying at Chantilly long-term?
Right now, my focus is trying new things within the building. I'm thinking whether I want to stay teaching in English or move to algebra next year. I want to finish off this year and assess how I feel about that. However, it would be nice not to change schools again because that's a big transition.
Donate to The Purple Tide