K-pop club enjoys world of Korean music, culture
As other students rush toward their responsibilities and activities, Tuesdays hold a special for students involved in the K-pop Club celebrating Korean pop music. Every week at 3 p.m., K-pop club president and junior Michaela Bravo prepares the SMART Board in room 587 to select music videos. After pushing desks aside and organizing the meeting activities, the club heads welcome participants who are ready to immerse themselves into the world of Korean music and culture. 
"My favorite part is the small community that we've built with new friends that come from many different fandoms," Bravo said. "I think other K-pop fans would enjoy the club because it's still in its new this year, so people can be part of the foundation of the club and also they can have a place where they can express what they want to in regards to K-pop." 
K-pop was first introduced to the world stage through the Kim Sisters in 1950: a group that laid the foundation for future Korean music acts to enter the scene. According to the Los Angeles Film School, K-pop then went through three generations, the first in the 1990s, the second in the 2000s and the third in the 2010s. Today, renowned groups like the Bantang Boys (BTS), Blackpink, Exo and Twice have helped increase K-pop Spotify streams by 107% since 2018 in the United States, as reported by Spotify. 
"My favorite part about K-pop is the music and how much effort the artists put into interacting with fans," club vice president and junior Sarah Matthews said. "[I] also really love just talking about my favorite artists and songs with others."
During a typical meeting, club leaders and the sponsor, physics teacher Tanner DeCrapio, start the session with announcements. After everyone arrives, they work together to watch music videos, learn new dances and appreciate their favorite songs.
"A typical K-pop club meeting can range from a chaotic environment to a comfortable and chill environment," junior member Elise Chong said. "The officers have a fun activity for the club to do [every] meeting."
However, pop music isn't the only thing club members indulge in. Participants can also take part in watching k-dramas or Korean survival shows like "My Teen Girl" and "Kingdom." Additionally, craft making and K-pop conversations usually take place at meetings.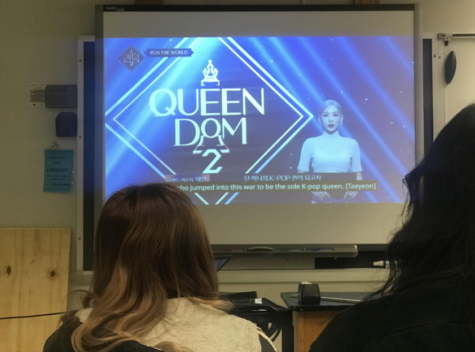 "My favorite part of the club is the connections that the students are able to make with each other through their mutual interest in K-pop," DeCrapio said. "The laughter is always so contagious and they are always having such a blast."
Due to the smaller size of the club, Bravo tries to keep close connections with all members. Going beyond sending out Schoology check-ins, she personally ensures members coming from different fandoms are all able to enjoy every activity.
"I chose this club because I wanted an outlet and a place to talk about K-pop, as my family doesn't really care and neither do most of my friends," Bravo said. "I try twice as hard to make sure everyone is having a good time, even if it's challenging"
Chong and Bravo said K-pop Club is a safe environment for the genre fans to meet those like them. Although attendance fluctuates between meetings due to the novelty of the club, participants look to make a welcoming environment for all club members. Additionally, because there's no required attendance, any interested students can come and go as they please, helping to formulate a low-stress environment.
"Whenever I have students in for help while the club is going on, they always comment on how fun it looks," DeCrapio said. "Step out of your comfort when it comes to all aspects of life, try new things, join different clubs, make new friends and just enjoy the diversity here at Chantilly."