Pro: AP classes offer multiple benefits for eager students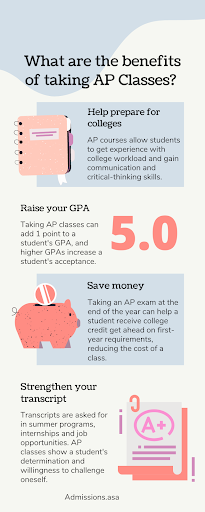 From acquiring college credits to impressing college admission officers, advanced placement (AP) classes offer great opportunities for students to build upon their academic skills. According to TeenLife, AP classes hold numerous benefits, such as saving money on tuition, increasing one's chances for merit aid and even graduating early from college. 
One source of motivation to take AP classes includes a one point increase in the grade point average (GPA) boost to a student's weighted GPA. According to Crismon Education, several competitive colleges look for a weighted GPA of 4.2, which can be unattainable without taking honors classes that add 0.5 to a student's GPA, and participation in AP courses, adding 1 point to the GPA.
Popular AP classes that students take are AP English Language and Composition, AP U.S. History, AP English Literature and AP World History. These classes develop comprehensive skills that can be applied to a broad range of classes. 
Such classes help students accurately articulate arguments and create powerful essays. By learning such skills, students are prepared for colleges where they may write over 15 essays per semester, according to How To Learn.
Many students that take AP classes often take the corresponding exam in May or June, which tests material students have been taught throughout the year. These exams may allow students to get college credit, as earning a score of 4 or above allows a student not to retake the class in most colleges.The willingness to take a rigorous AP course and the corresponding test at the end of the year also signifies a strong applicant and increases their chances of admission. 
College credits earned through AP exam scores can add up, possibly allowing one to finish college early. In other words, students can complete a solid portion of their general education requirements before entering college. Resources to learn more about AP classes and their potential college credits include AP College Board and Prep Scholar. 
AP classes allow one to investigate college-level topics that they would be interested in pursuing and receive an upper-hand when navigating post-high school education. Furthermore, the completion of AP's can be shown as a strength when applying for summer programs or leadership opportunities.