Seniors reminisce on favorite high school memories
As the Class of 2022 nears the end of their high school careers and prepares for the next chapter of their lives, seniors reflect on their favorite memories over the past four years at CHS.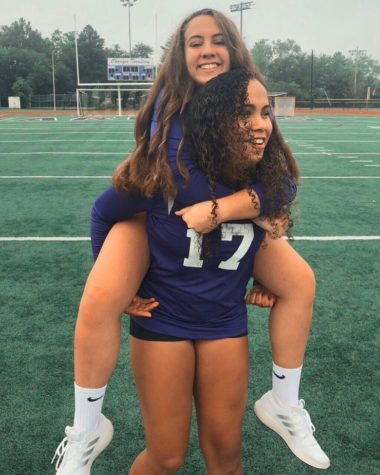 Volleyball victory
In her freshman year on the JV volleyball team, one particular game stuck out to senior Claire Crowley as her most memorable moment during high school. They had a game against Langley High School, who had a higher ranking than CHS. 
At first Langley was winning 14-8, and since it was the third set of the game, the first team to score 15 points would win, meaning Langley would win with one more point. However, Crowley's team ended up scoring multiple points in a row, winning 17-15.
"I remember the bus ride home from the game," Crowley said. "It was the most fun I think I've ever had. We were singing so loud, playing all the winning songs and just having fun. We were such a big family."
This big win set Crowley's team apart from other teams in their district and region, as they were able to defeat a team of a higher ranking.
"Coming home was such a sigh of relief knowing that we made such an accomplishment," Crowley said.
Senior Claire Crowley and senior Gabi Walker spend time bonding during their freshman year media day in August 2018. Photo used with permission of Claire Crowley.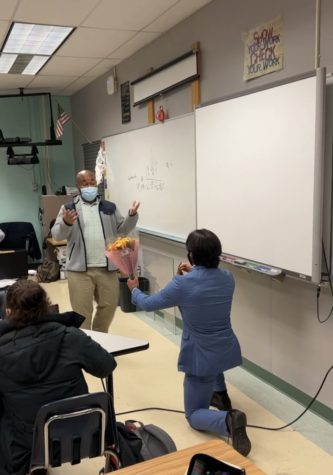 Be my valentine
Two days after Valentine's Day, senior Rishi Sarraff wore a blue suit with a white collared shirt lined with dots to school and brought a box of chocolates and a bouquet of flowers – all to jokingly ask his statistics teacher, Marques Cameron, to be his valentine in seventh period.
"I put on saxophone music, walked in and said, 'Mr. Cameron, Valentine's Day was two days ago and I missed it because you weren't there,' and then I gave [the flowers and chocolate] to him," Sarraff said. "It's because he bumped up my grade from a 90 to a 93."
Sarraff spent the entire day in his suit and avoided meeting Cameron in the halls until his statistics class.
"I felt like it was something beside the normal," Sarraff said. "Mr. Cameron is a nice teacher and chill, and because he is like that, I think that's why that popped in my mind [as a favorite memory].
A musical memory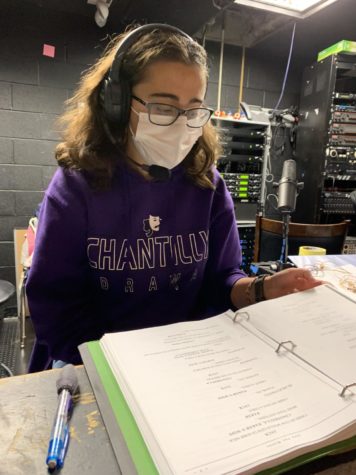 For senior Molly Shear, the first night of the 2021 Spring Musical Cabaret which took place on May 14 was her most memorable experience of high school. The cabaret included a collection of songs from various musicals and Shear was the stage manager. Shear took on many roles and the roles were split between two stage managers. The job included taking blocking notes and directorial notes, writing rehearsal reports, following along with rehearsals to aid actors when line reminders are needed and taking notes on what can be technically improved.
"It was our first show that we did when we were back after the coronavirus," Shear said. "We had all worked so hard to make something happen. I love theater so much and it was so nice to see everyone really come together to make theater happen again."
For Shear, theater was a big part of her day-to-day life. It was an activity that made school worth showing up.
"Theater is my group of people," Shear said. "I love working with them; I love putting on productions; I love everything about theater. Having that be there for me when I needed it, I would say, was probably the best."
On April 26, senior Molly Shear works on the recent "Into the Woods" show and is calling the show, making cue notes. Photo used with permission of Molly Shear.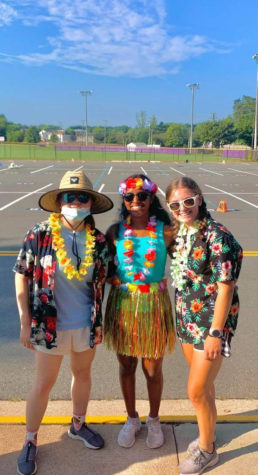 A night to remember
In her junior and senior year, senior Shreshtha Peter-Raj was selected as a drum major. The drum major is a leadership role within the marching band, and the main role of drum major is to conduct the band through the show. Although her junior year as a drum major only involved a short spring season due to the pandemic, she was able to enjoy the full experience her senior year.
Her favorite memory, however, was the overnight trip at Liberty University for the Virginia Marching Band Cooperative competition.
"Not only did we do well at the competition, but that night at the hotel we spent hours laughing, chatting, taking pictures, jumping on the bed, doing face masks, making Tik Toks and eating," Peter-Raj said. "It was an unforgettable experience that I reminisce on daily."
Peter-Raj loved her high school years because of the activities she was involved in as well as the friendships she made. She shares that her high school experiences and friendships have shaped her into the person she is today.
"To those still continuing high school, I'd tell them to emphasize creating a balance between school, friends and family," Peter-Raj said. "Without that, you might get overwhelmed. Also consider that after your four years in high school, you might not see those friends and family members as often as you do now, so make sure to spend as much time as possible with them, while, of course, focusing on academics."