3 summer drinks to keep cool in the heat
The sweltering heat calls for a refreshing treat, as the weather warms up and the pools open. To stay cool this season, students and faculty may visit popular chains for icy cold summer drinks to quench the thirst and please the palate.
Cafein Matcha Latte
For a caffeinated kick to summer, the matcha  latte from Cafein features an earthy, vanilla flavored matcha, served with cold milk, sweetened just right. Served hot or cold, the matcha latte is popular among students who yearn for a light natural sweetness to balance the undertones of a subtle umami flavor.
"This drink reminds me of summer since I get it almost everyday in the summer," sophomore Sagarika Kagitha said. "It gives me energy without hurting my stomach like coffee does."
Matcha is a finely ground powder of green tea leaves and a complex flavor profile, featuring a natural sweet nuttiness, a touch of bitterness and a pleasant savory aftertaste. As a popular ingredient often found in Asian drinks and desserts, matcha has slowly gained popularity through its unique flavor profile.
"I definitely feel like everyone should give it a try, because even though I did not like it at first, I now know how to order it right, so it's my favorite drink," Kagitha said.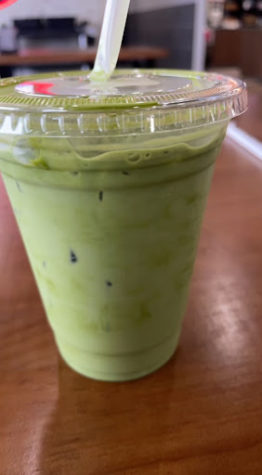 Starbucks Strawberry Acaí Refresher
With sweet strawberry flavors accented by a tang of acaí and caffeinated with green coffee extract, the Strawberry Acaí Refresher is a welcoming sweet spot as a refreshment. These lightly caffeinated, fruity beverages are one of Starbucks's most popular summertime drinks.
"The Strawberry Acaí Refresher at Starbucks is my go-to drink in the summer," sophomore Sahitya Balguri said. "It has pieces of dried strawberries inside and tastes like strawberry lemonade, which gives off a summer ambiance. It's also cold, which is really refreshing on a hot day."
Available in the four classic Starbucks sizes, tall, grande, venti and trenta, this summer treat appeals to a wider range of students with its low levels of caffeine.
"I really like it because unlike other Starbucks drinks, it does not have a high caffeine content, making it healthier for me to drink during a hot, summer day," Balguri said. "I don't always like the bitterness of caffeine in coffee, but the caffeine in this refresher balances with the sweet tones of the dried strawberries and acai base."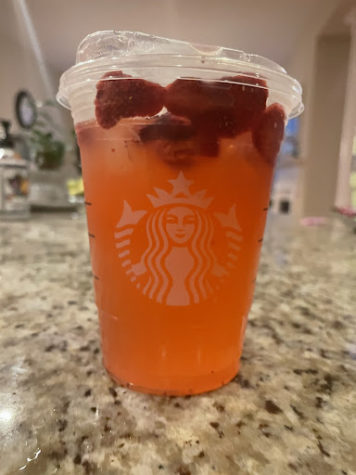 Tropical Smoothie Cafe Bahama Mama
A refreshing blend of coconut, pineapple, strawberry and white chocolate, the popular Bahama Mama is the perfect choice for a beachy, summer day. Popular for their tropical flavors, Tropical Smoothie Cafe offers a wide variety of tasty treats including Acai Berry Boost, Mango Magic, Paradise Point and Sunrise Sunset. 
"I always go to Tropical Smoothie Cafe in the summertime," freshman Jenna Abi Joumah said. "Last year when I went to the beach, I would drink different flavors everyday while sitting on the sand because it just felt like the right drink for the summertime. 
In addition to being a sweet treat, this smoothie also has many health benefits with its incorporation of fruits. Containing the simplest, healthy ingredients this drink also enriches with a lot of nutrition including vitamin C, calcium, iron and vitamin A.
"From all the drinks I tried, Bahama Mama was definitely my favorite since it gives off such a summery vibe and complements a hot, beach day," Abi Joumah said. "It also feels healthier than caffeinated and sweetened drinks, which is another reason why I like it so much. I definitely recommend this drink to anyone in need of some delicious smoothies this summer."