TPT underclassmen letter to seniors
Dear seniors,
Hundreds of hours spent at the round table, too many frantic work nights and one Secret Santa exchange later, the year that everyone thought would end up online is coming to a close. It has certainly been one heck of a ride, but if there's one thing us underclassmen can agree on, it's this: these last nine months would not have been as great (and chaotic) as they were if it hadn't been for our spectacular senior staff. You may have been the oldest members of our crew, but you were certainly also the wisest, kindest and wittiest. It's with a heavy heart that we say goodbye to 16 of the most brilliant and unequivocally talented people we know as you cross the threshold into adulthood. Before you leave room 228 behind for good, though, we ask that you read this final farewell of ours through to the end—at your own risk, of course (hehe).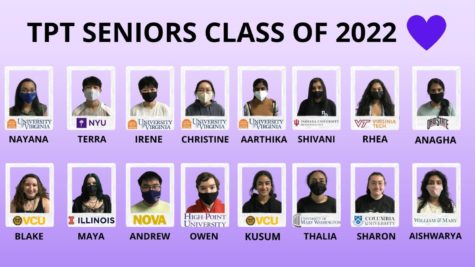 Sharon, our Columbia-bound hot takes-haver, where do we even begin with you? Your easy-going disposition and unfailing optimism brightened every class, especially table time. Despite your constant, unwarranted defense of British people, insistence that Hillary Clinton is hot and unwittingly stalking pretty much everyone (like that girl in the cafeteria or your future wife on LinkedIn), all of us love and admire you more than you'll ever realize. We know that you'll be up to some amazing things in the Ivy League and beyond—although we will definitely miss having someone to "cancel" during lunch.
Rhea, there is no doubt in any of our minds that you were the fashion icon of our staff. I mean, what can we say: your fits never missed! Even when you were stress-drinking your southern pecan coffee (with extra sugar) in the back of the classroom while reviewing for a math or environmental science test, you lifted all of our spirits with your unending willingness to help and sheer vivaciousness. We thank you for all of your advice on internships, online shopping and the yuckiness of APES. It also helped that you always had tea to spill—like, who are we going to get our gossip from next year?
Blake, we can only dream of having as much raw charisma and random knowledge as you do. Your boundless energy, anti-British tirades and borderline terrifying work stories (we can't believe you're reapplying to Plato's) only bettered the class vibes and brought us closer as a staff. Plus, your vibes are totally unmatched in the most positive way—even if you are dangerously close to being a ginger. Here's to hoping your latest tarot readings are false and that you do, in fact, find your soulmate in college. Make sure to visit lots next year and invite us to all your volleyball tournaments…or else! Slay!
Andrew, when were you ever not smiling? Your constant optimism and sociability lifted every single one of our spirits, and it was so nice knowing someone had our back when things went wrong or even right. We are eternally grateful for all the smiles we've shared with you these past few months and wish you only the very best as you get ready to part with us. This may have been your only year on staff, but you truly are—and always will be—a TPT VIP. 
All hail the JEDI and personal column queen! Nayana, from your mid-day crises about college applications to the excitement you had about going into UVA, you have made every single one of our days a little more fun. Your advice on why there are no good guys at Chantilly to your hair-styling help is unparalleled and we will forever miss how helpful and kind you are to others. From a world champion debater to an (only occasionally) physics no-show, back to being one of the most well-spoken and intelligent people we know, we know that you will go big places and achieve all of your dreams. Oh, and don't forget that you are not allowed to forget us in college. 
Maya, us underclassmen's consensus on you is clear: you are among the sweetest and most passionate members of our staff. Not only is your taste in literature and fashion amazing, you are truly an inspiration to everyone with all of your activism and remarkable writing style. Also, your Chipotle order is valid. We hope you continue being a strong-minded writer with your focus on such interesting topics. Have fun birdwatching in Illinois!
Owen, you were always so kind in class! All conversations with you are so entertaining and a great experience every time. You have a positive attitude and always make the atmosphere brighter!! Your articles have improved so much over the course of the year and I loved reading your personal column on psychology and choosing a major! Have fun swimming in the fancy pools at High Point!
Terra, the absolute GOAT of sports articles (and wearing hats to school). We'll miss having you crack jokes in the back corner of the classroom, and of course, there will be an absence next year without your helpful, patient and kind personality. Whether it was helping new writers out with their articles, reminding us to stay on track with edits or offering your all-knowing opinion on various sports issues– which was very important among our relatively unathletic class– you will be missed. The resident athlete of TPT, we wish you the best of luck next year at NYU and we know that you'll do– and play– great. Lastly, thank you for suffering through three years of being part of the gender minority of our class. We hope that the daily arguments, squabbles and debates of journalism will prepare you for the city that never sleeps. 
Shivani! Today you are being permanently crowned as Best of SNO, InDesign and opinions writing royalty. Thank you for (sometimes) being the only sane one in class and for handling the board and being so organized– you really stabilize our class and keep us on track. You're so funny, kind and understanding and we're so grateful for all of the support you give us on the daily. You truly are an essential part of what makes TPT special. Thank you for always making our day by cracking jokes, making sarcastic quips and destroying anyone else's opinion in any debate with your dry humor. Most importantly, we hope you finish your lunch when you are in college. 
Imagine being an executive board member for half your time at Chantilly. Well, Aarthika, we guess you don't because you are so cool and a journalism icon!  Thank you for your edits– we might occasionally complain, but in all seriousness, they've made everyone here a better writer and uplift the quality of the entire publication. In addition to your masterful editing, you are kind, supportive and funny, you've checked every box that makes you a great writer, editor and editor in chief! We appreciate how helpful and kind you are to us, and to boot, your articles are amazing!!
Irene, our president of pitching and keeper of the dry erase board, you are the type of person whose eyes radiate with kindness and light when you smile. You are always so patient, considerate and helpful. We are especially grateful for you tolerating all the noise we've made at the opinions table in 6th period! You are awesome at writing articles and designing amazing in-depth pages, and you give some of the best advice! All of these make you a great writer and a wonderful EIC. We will most certainly miss your both chill and warm presence but know you will do great in college!
Christine, our literal sunshine! There are so many thanks to give; from your kind comments to encouraging attitude to your self control (we know you definitely wanted to drop-kick us sometimes), you've definitely made room 228 the warm and welcoming environment we know it to be. Not to mention, the simultaneously hilarious and heartfelt edits you leave make what would otherwise be a tedious revision process that much easier. While we can only dream of being half as creative as you are—seriously, how do you edit the newsmagazine covers so well using just the Photos app—we will work hard next year to carry on your legacy as the queen of all things aesthetic. UVA is so lucky to have you gracing its halls next year!
Anagha, journalism wouldn't have been the same without you. You always made every journalism period a new and interesting time. Whether it was talking about New Girl, bonding over music taste, or enjoying your chaotic sense of humor, you were always a blast to be around! You're such a fun and cool person to be around and we're so glad we got to know you because it wouldn't have been the same without you! We made so many memories together in 6th period that I will never forget. Just know you'll always be the Prank Sinatra of our hearts <3. We're going to miss you but we hope you have a great time at Ohio State!
Kusum, you have influenced us so much with your writing tips and not to mention your supreme music taste! We are so grateful to have you in journalism because you always give the best advice. You are always so chill, so patient and so kind, which is why you are such an awesome writer and mentor! We wish you all the best in VCU and we know you are going to do fantastic!
Thalia, whether it was arguing over the symbolism of a lightbulb man drawing or talking to you about bad movie tropes, every single class period has been funnier than the previous one! You are such an easygoing person who never fails to make us laugh in class and your positive vibes always seem to brighten the day. Somehow, you always had the perfect comment to make or photo to show that made jokes 10x funnier. You were always prepared to lend others a helping hand and your amazing fashion taste and articles continue to be an inspiration to us all. We are so grateful for all the help you've given us and we are so fortunate to have you as our friend this year. We will miss you but we hope you have the absolute best time at college!
Aishwarya, being the cool, funny and helpful presence as you are, we are very grateful to have you looking after us underclassmen. Thank you for helping us with homework and clearing up confusions for us in general. You are so kind and your outfits are always so cute and on point, not to mention that your makeup and hair are perfect 24/7! For real, you always look confident and perfect. We hope that you have a great time at college and we know that you have a bright future ahead of you!
All in all, we love our seniors, and just in case you didn't notice, we will miss you dearly. We know that every one of you will surpass your wildest dreams and go big places, we'll always be cheering for you. 
Please remember us,
TPT underclassmen