Students, teachers dive into summer with water sports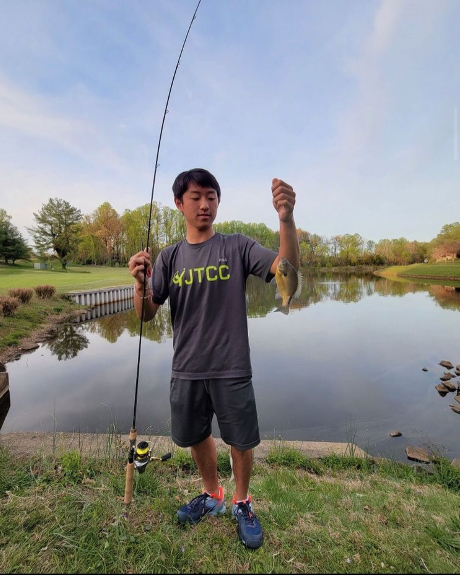 People cheer and water splashes as students race to win. Students and teachers participate in a myriad of sports including water polo, swim and dive and fishing.
Water polo is a rigorous and competitive team sport similar to basketball and soccer, according to Britannica. It includes two teams of seven players each. Water polo is considered one of the toughest sports due to its strenuous nature.
The game is played in a pool and consists of four quarters during which each team tries to score the most goals by throwing a ball into the opponent's goal using only one hand with only 30 seconds to shoot. The rule that players are not allowed to touch the bottom of the pool requires them to be able to swim well in order to tread water for long stretches of time. People that play water polo have to train a lot to develop the muscle to be able to swim for hours.
"My coach used to say that the two toughest sports were wrestling and water polo because you were always engaged," math teacher Ronald Budreau said.
Budreau played water polo in high school and college. He found water polo to be appealing due to it being a group activity and including a ball.  Budreau mainly played hole-set and left wing. According to Rookie Road, the hole-setter, also known as a center forward, is an attacking position whose job is to cause confusion in the opposing team's defense. The left wing is another attacking position which can also pose as defense when needed.
Although water polo is not offered in FCPS, CHS offers swim and dive during the winter. There is also a swim and dive club during the summer that meets every weekend from the end of June going until the beginning of August and ends with an annual state competition.
"[Swimming] is a hobby too," freshman Zoey Wang said. "You enjoy the feeling of being able to swim. Sometimes I swim laps just for fun without timing myself."
CHS does not have its own pool but the members of the swim and dive sport practice and have meets at a community pool. Swim and dive requires knowing how to float and hold your breath as well as knowing when to breathe in different types of strokes. Some basic skills that swimmers need to know are freestyle and backstroke. The butterfly stroke and other strokes use the skills learned in freestyle and backstyle.
"Butterfly is the most difficult for me," Wang said. "It requires a lot of muscle, strength, power and gets really tiring."
Fishing is another sport students and teachers participate in.  Fairfax Lake, Silver Lake and Lake Curtis allow fishing with a license and a special tax. The fishing season runs from summer until early fall, according to Eregulations. In order to be successful, fishers pay attention to the seasons to tell where the fish will be and what to use to lure them to bite. The most challenging part is knowing when to use the bait and what color will incline the fish to bite.
"During the school year, I try fishing at least once a week to relax and have fun," junior Ethan Liu said. "In the [summer] I go two to three times a week."
Good quality equipment needed for fishing is very expensive. Liu has received sponsorships from Rapala, the Rod Glove and American Tackle to help with the costs that come with fishing.
"To me, fishing isn't actually about catching a fish, it's a great way to enjoy nature," Liu said.