Summer Diaries: Delaney Brooks
Disability Pride Month deserves more notoriety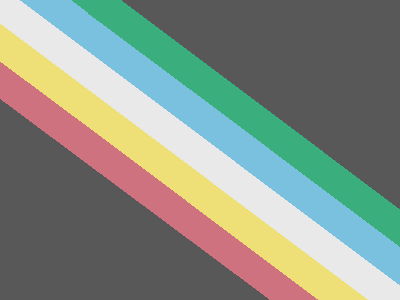 As someone who lives with a disability, I look forward to July. For me, it's 31 days of recognition for the inherent struggles of being disabled in an able-bodied and neurotypical world. It's a time to feel extra connected to my community, appreciate all this vibrant group has to offer and emphasize just how proud of my disability I am. 
According to the American Foundation for the Blind (AFB), July has been Disability Pride Month since the Americans With Disabilities Act (ADA) was passed on July 26, 1990. It is not as widely recognized or celebrated, however, as gay pride in June or breast cancer awareness in October. Our flag, striped in pastels, isn't flown outside of supporters' homes, and companies don't change their logos to reflect the colors of our cause. Even more unfortunate: most people, even many in the disability community, aren't aware of the cause July celebrates.
"I've noticed [LGBTQIA+] pride things like rainbows but not specific to disability," teacher of the visually impaired and who is blind herself, Karen Rivas said.
Preceding the mandate of the ADA, disabled Americans had few laws to lean on when confronted with an inaccessible space or ablest employer. The ADA is responsible not only for providing Americans with disabilities legislation to stand by, but it offered new found independence to the disabled Americans of 1990 and continues to act as a safety net for us today.
"It holds people more accountable to be more inclusive," Rivas said. "It feels like there's always something there backing you up in case something doesn't feel fair that should be a little bit more accessible or somebody's just being completely discriminatory."
I believe that celebration of Disability Pride Month is not only beneficial for the disability community, but for the able-bodied and neurotypical public as well. While the vast majority of the public isn't knowingly or purposefully ableist, many are uneducated about disability. This ignorance often leads to microaggressions and I hope that with education, the frequency of such instances will dwindle. 
"Maybe it is up to us to make more noise about it and make people more aware of it because it's just not a huge percentage of the population that this is important to or that it affects at all," Rivas said. "I definitely think that everything, every population, every type of group should get some sort of recognition. The fact that everybody's differences or uniqueness are being highlighted, I think that's amazing."