Personal column: student athletes face psychological pitfalls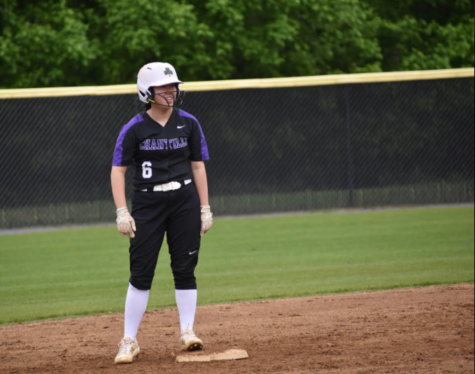 Softball is a huge part of my life. I play both varsity and travel softball, and in season, I'm often logging more than 20 hours a week at the softball field. Through softball, I've been afforded unique opportunities: playing with teammates from across the globe, experiencing the intense joy and pride after winning tournaments and being able to represent my school. 
One lesson that has been taught often throughout my time in the softball community is that the game is one of failure. In high school softball, batting around .400 is often good enough to receive district recognition. This means that even the best high school softball players–D1 and other college recruits–can be failing 60% of the time. Personally, I've often had to work hard to prioritize the seemingly small personal wins over overwhelming mistakes.
And while athletic achievements and periods of success definitely help to balance these lows, my own struggles with recognizing the small victories in an ocean of batting slumps, losses and errors have led me to believe that we all need to do a better job in emphasizing the importance of mental health upkeep among student athletes. 
The competitive and rigorous nature of athletics–even at the high school level–can generate detrimental effects. Student athletes are tasked with juggling practices, games and sometimes recruiting with school. In response to the challenge of balancing these responsibilities and emotions, these athletes may experience mental health issues, according to Embark Behavioral Health. In fact, in a study listed by the LA Times, 20% of college athletes experienced depression. 
Furthermore, going along with the win-first environment of athletics, teams often overtrain, even in organized environments with specific rules. According to the Philadelphia Inquirer, 80% of surveyed NCAA athletes recorded practicing more than the NCAA-mandated maximum of 20 hours a week on-season and 10 hours a week in the off season. 
When considering student-athletes' mental and physical health conditions, we need to be cautious of overtraining, because it can be extremely harmful to both athletic performance and mental health. According to Lurie's Children, overtraining in young athletes can lead to physical injuries, emotional changes and burnout. 
In my own experiences within the softball community, burnout can manifest as dispassion for a once-loved sport. More broadly, burnout is shown through decreases in youth sports participation, according to the Sports and Fitness Industry Association. The win-first culture of sports can often induce the dual challenges of navigating burnout and losses, which ultimately pushes many athletes to quit, or suffer through poor mental health. 
That's why making sure that student athletes receive proper breaks is vital to eliminating their burnout and exhaustion. Student-athletes can also prioritize their mental health by taking time to recuperate and enjoy athletic victories unimpeded by the pressure of other mistakes. 
All of this is not to say we shouldn't keep encouraging students to play sports. According to MU Healthcare, athletics teach teenagers valuable skills–including teamwork and problem solving–which are linked to better health and academic performance. We just need to be able to look beyond the advantages of the student athlete life and recognize the story that often isn't told: how taxing being a student athlete can be.
So as high school sports progress, we must not catch ourselves in the destructive cycle of overworking student athletes and belittling their experiences, stress or exhaustion. Sports may just be a game, but the burnout and mental stress that often ensues is devastating.