Taste of Culture; Students share lunch alternatives for back to school lunches
In the midst of the bustling chatter of students in the cafeteria, a diversity of foods are found, filled with different cultures, aesthetics or simple grab and go meals from home. With the beginning of the 2022-2023 school year, students pay for school lunches, according to Fairfax County Public Schools. Here are some lunch options students bring to school.
Indian cuisine
The taste and texture of a melange of south Indian foods include vada, dosa, idli, sambar and rasam. Containing a variety of flavors, these are often rice and lentil based foods prepared in family meals. Junior Siri Chellapilla brought her homemade vegetarian dish for lunch. By refrigerating leftover food, her family is able to preserve their "one time meals" into food to eat throughout the entirety of the week.
"Today I had a dish called sambar, a leaf dhal congealed together with rice, lentils and soup—it's really good," Chellapilla said. "The way we prepare food in my house is that over the weekend, my mom would make a couple of different dishes and then we'll eat those over the course of the next couple of days. Each time we store a fresh batch and keep it in the fridge." 
According to the Mayo Clinic, food is generally safe refrigerated for three to four days; proper cooking and handling are further measures to prevent the spoilage of perishable foods.
"Not only is the food I eat from home related to culture, but it's good to have overall healthier and balanced meals that I would eat," Chellapilla said. "I have a huge metal tin [and] it's got two compartments. It's really heavy, but it's great to keep the food nice and warm."
Asian staples
A variety of traditional Asian dishes are seen beyond the scope of the kitchen. Food ranging from Chinese dishes such as dim sum, chow mein and fried rice with roasted pork or duck are popular among peers. Sophomore John John Guan is often found enjoying his Chinese meal, consisting of a cold drink and rice, steamed broccoli and pork packed in an insulated container to keep it fresh.
"During lunch I also eat foods like beef noodle soup, fried squid and leftover hotpot because they are yummy and it helps me connect with my culture when I eat them," Guan said.
As a staple food in the Asian diet, rice is incorporated in many of their regional specialities. Methods of cooking include steamed, claypot or fried rice with the addition of soy sauce, sesame oil and vegetables– an option to add a flavorful blend from plain rice.
"My mom cooks all the food, usually Chinese food in general." Guan said. "Rice is a part of our culture so I eat it a lot. I just take the lunch to school because I don't know how to cook; sometimes my mom brings an apple to stay healthier."
American classics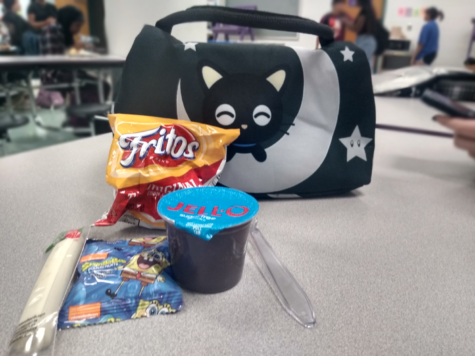 For a taste of American culture, food such as pizza, macaroni and chips are classics often eaten as popular comfort foods. Freshman Mia Rivas Stolyarova brings to school a simple homemade sandwich with lettuce and sliced meat, Doritos chips and, to top it off, a cherry-flavored jello dessert.
"I think that it is great food to bring, my favorite being cinnamon flavored pop tarts because it's super tasty," Stolyarova said. "You only need a few ingredients to put together a sandwich."
All of these lunch options usually take around two to three minutes to assemble in the morning, and can be ready to eat or microwaved in the school cafeteria.
"I usually pack my lunch at 7:20 a.m before the bus comes at 7:35 a.m," Stolyarova said. "If I'm prepared, I just get my food, put it in my lunch box and I just wait for the bus to come."
For a plethora of options, homemade lunches have come with many benefits catering to students' needs. The culture ranging from tradition, religion and family continues to be passed down in food, linking back to students and their roots of heritage.