Former student coaches golf team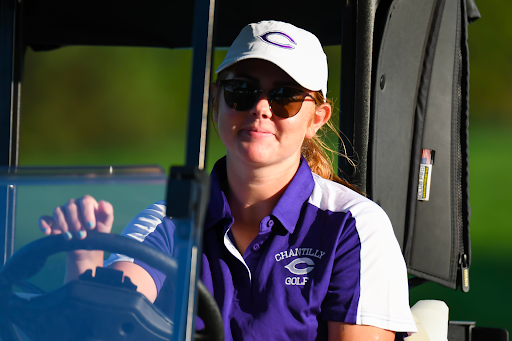 As CHS alumna Heather Donnelly swings her golf club to putt the ball, the whole team watches it fly into the air, admiring Donnelly's skills. As this is her first year as golf coach, Donnelly came back to coach the varsity golf team. In college she worked towards a mathematics degree at Bridgewater College and only got a coaching job at CHS due to chance.
"I started looking at jobs at Chantilly and saw they were looking for a golf coach," Donnelly said. "I emailed [Corey] Bowerman, the student activities director, saying I was interested in coaching and the rest was history." 
Alongside coaching, Donnelly continues to play as an adult, participating in a few leagues and playing at Belmont Country Club.
"I started playing golf when I was about 13," Donnelly said. "My dad is a big golfer, so he is the reason I started playing. He convinced me to try out for the Chantilly golf team my freshman year. I played on the team all four years of high school and at Bridgewater I was on the starting line-up all four years."
Now, as a coach, she guides the golf team in its practices to help players improve their skills by teaching them putting and swinging. Specifically, Donnelly implements her personal golfing knowledge and experience as she leads the team through games and tournaments against other schools.
"Working with Coach Donnelly has been really nice," varsity junior Mae O'Neill said. "She has a lot of experience with golf not only at the collegiate level but specifically at our home course because that's where she practiced and played when she went to CHS. She's been able to give our team pointers on how to approach certain holes on the course and how to approach the game in general, which has been really beneficial to our teams playing this year."
While the fall season has ended the team played seven games, two of them being districts on Sept. 9 and Sept. 10. Their game record this season was 2-1.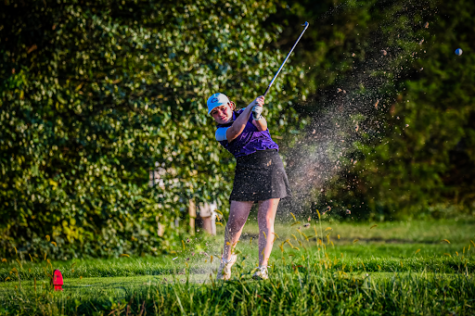 To prepare for districts and their competitions, players practiced for two to four hours after school at the home course, Pleasant Valley. The length of these practices usually depended on weather and how ready the players were. 
"When planning a practice, there are many things I need to consider. For example, the driving range is closed some days, so it is better to make tee times," Donnelly said. "Other days, the weather is way too hot to go on the course, so I plan for something a little more relaxing. I am a firm believer that putting is one of the most important parts of golf, so I always try to plan some sort of putting practice."
"
Obviously, I have my own experiences and memories from when I was on the team but it's a totally different group of students and atmosphere. I have walked in their shoes so I feel like I can give them good advice, but really, it's just very nostalgic. I'm coaching in the exact same polo that I wore when I was a player."
— Coach Heather Donnelly
Additionally, practice consisted of activities like playing nine holes, splitting the time between the range and short game area, competitions and sometimes brackets for a putting cornhole tournament. Throughout the season, players had many opportunities to work on their skills.
"I don't think being a former Chantilly student makes a huge difference in coaching," Donnelly said. "Obviously, I have my own experiences and memories from when I was on the team but it's a totally different group of students and atmosphere. I have walked in their shoes so I feel like I can give them good advice, but really, it's just very nostalgic. I'm coaching in the exact same polo that I wore when I was a player."