Immigration status brings additional challenges to college applicants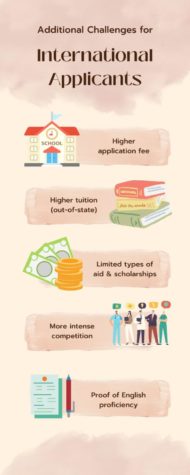 Upon clicking open the application portal for each school in Common App, one of the first questions asked is "What is your citizenship status?" For some students, the answer to this is more than just a choice in a dropdown list, but a harsh reminder of opportunities that are closed to them. One of these opportunities is the Free Application for Federal Student Aid (FAFSA).
While thousands of schools across the country participate in federal student aid programs, according to Federal Student Aid, filling out the FAFSA requires a social security number. This makes it available for only U.S. citizens and eligible noncitizens, as in someone who holds a "green card," a T nonimmigrant visa for victims of human trafficking or other forms of immigration that provides a social security number.
"I've lived in Virginia since I was four years old, so it's astonishing how they have requirements on what I'm legally classified as, which doesn't make sense," senior Joshita Nandakumar, a nonimmigrant visa holder, said.
When it comes to applying to college, undocumented and visa-holding immigrants are viewed the same as international applicants. This means they face more restrictions and requirements, such as higher tuition and application fees, as well as requirements for proof of English proficiency. Unable to qualify for federal money, many international applicants seek financial aid from individual schools, but doing so often lowers the chance of admission. According to Forbes, only five four-year colleges are truly need-blind for international students—Harvard, Yale, Princeton, MIT and Amherst, where applicants are evaluated solely on merit, rather than their families' ability to pay tuition and fees.
"If you are an American citizen and you want to study abroad, like in Asia, it would be a lot easier compared to an Asian student trying to study in a Western country," senior Emaad Basharat said. "So I think [colleges] should make education available to everyone, regardless of their residential status or where they are from."
Apart from the financial challenges, international applicants also face more intense competitions. Compared to the average two-thirds acceptance rate for four-year colleges in the U.S., international students have a lower acceptance rate of 43.8 percent, according to US News. 
"When I heard that I will be considered as an international student, that changed everything," Nandakumar said. "That made me realize I had to be more competitive than the people at school to be a more qualified applicant, because I'm competing with people from third-world countries that are putting their 200 percent effort to start a life here."
As K-12 school personnel are not allowed to inquire about the immigration status of students or their parents, many students may feel at a loss when suddenly discovering that they are applying as international students and seeking guidelines that differ from what are provided for their domestic applicant peers.
"It's disappointing that everyone gets steps to do things in a certain way, but when it comes to immigrants like us, we are not really sure which direction to go," Nandakumar said. "The whole visa situation is not in anyone's hands, but I feel like if the counselors can gather some resources for us to work with, it would be super helpful."
"
When I heard that I will be considered as an international student, that made me realize I'm competing with people from third-world countries that are putting their 200 percent effort to start a life here.
— senior Joshita Nandakumar
College and career specialist Khristie Greiner points out that while international applicants cannot qualify for federal aid, other resources are available. A Certificate of Finance allows colleges to evaluate the financial condition of international applicants. 
Applicants who are qualified as Virginia residents can apply for Virginia Alternative State Aid, a new financial aid that includes grants, loans and work-study. Introduced in January, this aid allows students without a social security number to access tuition money from the Commonwealth.
Nonprofit organizations, such as The Hidden Dream, also provide resources for visa-holding applicants. For finding solutions to each applicant's specific situation, international students are encouraged to contact the financial aid office of each college to explain their situation and ask about available aids.
"It's the squeaky bird that gets the worm, so if you are loud, you are the one that's going to get the money," Greiner said.
Instead of being a barrier, immigration status can also be used to an applicant's advantage. Many colleges appreciate the diversity applicants bring with their experiences of growing up immersed in multiple cultures. Applicants can share their stories in their personal statement or writing supplements.
"Utilize the fact that you are unique," Greiner said. "You are bringing this rich culture and rich point of view into college campuses. Utilize that to your advantage."