Letters for Veterans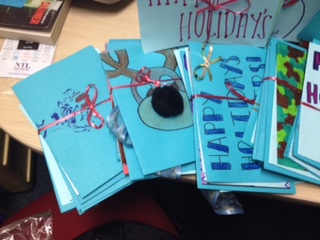 This year in the Leadership classes, students were split up into different agencies. Each agency is assigned a different task. For example, one agency is assigned a service task. For this time of year, sophomore TJ Walter and his group have organized a letter drive to send letters to soldiers overseas.
"Once we have all of the letters collected, we are going to mail them to Afghanistan." said sophomore and member of Leadership. "It will take about a month and a half for the letters to arrive, so the letters will be there just in time for the holidays."
Students in this group requested that teachers ask their students to write letters to be distributed to soldiers overseas. Students in this leadership agency distributed red, white and blue paper for the students to write their letters on. The letters were written for students to express their gratitude and appreciation for the veterans. They are also a way to send a small present for the veterans to enjoy this holiday season.