Students need to put sickness first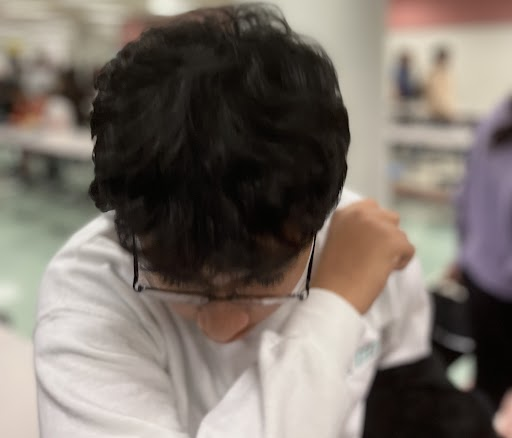 As the flu season flares, it's becoming obvious that if we burn ourselves out, things will end up in flames. Many are prioritizing academia above everything else, but as more and more students fall sick, it's time we shift our focus from school life to the physical well-being of ourselves and others. 
Even with COVID-19 rates gradually decreasing, the effect of other illnesses is still very much a threat, with  data from November showing a sharp spike in influenza infections across not only Fairfax County, but the rest of the country. Stafford High School in nearby Stafford County, in fact, saw a record breaking 1,000 absences from sickness in just one day back in October. Clearly, although the pandemic may be considered over, we still need to continue keeping ourselves safe from viruses, in order to ensure they don't burn further out of control.  
Disease spreading among children happens in school for the most part, as proximity to others allows infections to spread from sick students to healthy students, something substantiated by the National Library of Medicine. Whether inadvertently or not, students who come to school sick are adding fuel to an ongoing fire of sickness. Instead, they should be avoiding large group settings, since their germs have the ability to ignite havoc on others' lives. 
It's not just about trying to control viruses though; staying home from school while sick is a great way for students to refresh themselves, which they normally can't do due to the hustle and bustle of high school life. The lack of sleep students in the U.S. get has become the butt of jokes in recent times, with the average high schooler sleeping nearly two hours less than the recommended nine hours, reports the CDC. Feeling overwhelmed/stressed is also a struggle for most high schoolers, so taking the day off would not only help in keeping activity minimal , which is crucial in overcoming illness, says the University of Kansas, but would also let students rebuild their vigor, lie back and rest their mind from other concerns. 
When sick students are providing themselves and their community so many benefits by staying home, it begs the question as to why they even attend school in the first place. Sure enough though, there's one major hurdle that many sick students are afraid of jumping over when it comes to missing school, and according to The Atlantic, that's missing work. Making up work can be stressful, but students can surely get it done if they take the initiative to do so. They can, and should, utilize their teachers for help, and can use built in breaks like Charger Time once they return to school.
"Whenever students are out sick, we'll sometimes use emails to communicate, and other times they'll send photos of their work," technology education teacher Susan Chudovan said. "If they miss a lot of work, then I only have them do what's most important for their skill-building, so they don't feel overworked."
"
To act with ours and others' best interests at heart, or to let our fear burn us to the ground"
It may feel like an unnecessary burden at first, but it is an essential one to carry for the sake of others' wellbeing. Besides, making up work when we are of sound mind and in good condition would probably yield better results than doing the same work while we ache on the inside. 
 People like to gloat that their immunity is "strong", but do remember that being a mortal means sickness will eventually befall. How we choose to go about in light of our situation, however, is of more importance, and the ultimate question to ponder. To act with ours and others' best interests at heart, or to let our fear burn us to the ground, it is a decision only we can ultimately make.