Model Judiciary readies for February competition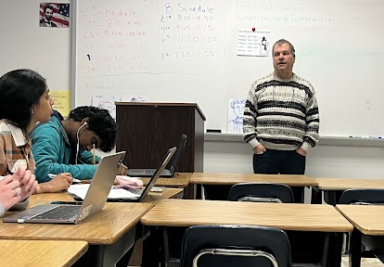 Coming off of a mock trial win last year, Model Judiciary is back for their next competition on Feb. 4 at the Fairfax County Courthouse, the same courthouse that hosted the Depp v. Heard trial. Their newest club sponsor, history teacher Britannye Mohrbacher, is here to guide them through this newest season. 
"Model Judiciary is a program that caters towards students that are interested in our judicial system," Mohrbacher said. "The program allows them to reenact courtroom scenes just like a simulation."
After the first competition, students who presented exceptionally well and performed well are picked from each club and invited to Richmond to compete on the state level. All of the competitions are observed by real lawyers.
"They get feedback from lawyers and judges about their participation and performance, and [the lawyers and judges] give them advice," Mohrbacher said. "The main point is for them to get a sense of what it's like to be in a courtroom, whether that is on a witness stand or being an attorney."
In preparation for the competition, Model Judiciary has enlisted the help of several teachers and lawyers, who all take part in advising the students during club meetings. One of them is a 25-year attorney and former CHS teacher who has taken on an advisory role for the students, Keenan Goldsby. His experience in the legal field and previous work as the sponsor for the club makes him an invaluable voice in the club, according to students.
"We get to meet with real judges and, here in Chantilly, we get to work with a real lawyer, Mr. Goldsby," Seenuthoju said. "It is also a fun club in general for all students to join and have a new experience." 
Practicing law for so many years, Goldsby knows how important this club can be for students. His coming back to CHS was in part because he wanted to help out aspiring lawyers, judges or attorneys.
"Even for students who don't necessarily want to be involved in the judicial system or go to law school, it is still important to understand our legal system because it affects all of us," Goldsby said.  "Model Judiciary is also a great way for students to develop their public speaking and advocacy skills, which is useful for a number of different careers outside of the law."
Having only one annual competition per year, most of Model Judiciary's season is spent preparing and practicing. Students who have already been in the club in years prior help advise younger club members on how to prepare.
"Last year's competition went well for my group," Seenuthoju said. "We went against Langley's prosecution team and we only got off with a minor charge for our defendant. It was a fun experience but also pretty scary being grilled by the other team. Overall, all the teams from Chantilly did well, and hopefully we do well this year as well."
During practices, the students are aided by Goldsby and former CHS teacher Ken Prowell who advise them on how to frame their arguments, question witnesses and more. The team hopes that comprehensive preparation carries them to their second consecutive win.
"Everyone seems optimistic about our team's chances." Mohrbacher said. "We have a lot of students that have competed in Model Judiciary previously, and look forward to it, and I'm excited for our students. We've got a later start than usual, but students are motivated and encouraged, and I think that we will do well."