SAT revamps test format, new study methods arise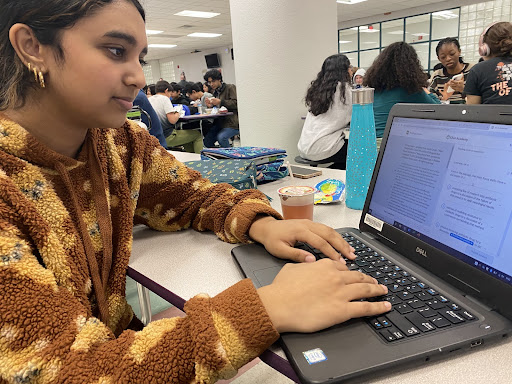 On a stressful Saturday morning, students fill up packed classrooms carrying bags of sharpened number two pencils, erasers and calculators. Tension is palpable as they take their assigned seat, the desks lined with blank answer sheets. The days and months preparing for this difficult day have finally arrived: it is time to take the SAT. However, beginning in the spring of 2023, this familiar process of filling in bubbles and waiting for proctors to collect test packets is changing.
According to the College Board, the organization responsible for administering the SAT, the standardized test would transition to a digital format. Although SOL's are regularly taken online, the time limit enforced for the SAT requires students to adapt to the new testing format. 
"While I was studying for the SAT, I had to buy SAT prep booklets and couldn't practice digitally in order to replicate exam conditions," junior Smriti Balasubramanium said. "However, freshmen and sophomores studying for the SAT now do not have to buy a test booklet making it easier on them. I think that the test will also overall be easier because they will be able to spend more time on each question, with the shorter problem sets on the new version. Now, future SAT-takers may not need to study as much as we have had to."
Additional changes to testing include shortened test days, authorized use of calculators throughout both math sections, expedited test results and abbreviated reading passages. Although these changes were implemented to benefit students, some feel that it lessens the importance of standardized testing, making it more difficult to obtain a good score.
"I believe that these changes in the SAT will not be beneficial due to the fact it will simply inflate the score which puts more stress on students," sophomore Sam Wolff said. "With the SAT being digital, the time required to answer a question will take a shorter amount of time because in the past, people had to flip through the book to revisit questions and had to take time to bubble in answers, reducing the amount of time available on the question itself. Now if you do not get a perfect score you feel a great sense of pressure." 
However, others feel that this change in the SAT will benefit their scores as this test will now follow an adaptive format with passages changing based on previous question performance levels. This new model will assess students' skills in a shorter period of time and will also provide more relevant information, making it easier to take. These changes especially appeal to underclassmen who have not previously experienced the paper and pencil test format.
"I am really happy that the SAT is going online because I think it will be much easier to complete now and I will not need to dedicate as much time to studying," freshman Nadiya Vandarapu said. "I know most people take the SAT's in their junior year, which is also known to be the busiest year, so being able to set aside more time for my homework and after school activities will lessen my workload on a daily basis. When I begin studying, I plan to log onto Khan Academy and take the new practice tests online since it will resemble the actual test."
Despite the shortened test day, some students find that the digital version online SAT practice websites like Khan Academy offer are more difficult, requiring them to adapt to changing test conditions. These changes will further impact study habits. 
"I really do not like the digital version of the SAT because I am someone that needs to mark my paper up and heavily annotate a passage and eliminate choices in a reading section," Balasubramanium said. "Even though we do follow a digital format for the SOL, I think since the SAT is much longer and is a more important standardized test, the digital format is going to make it more difficult.This new version is going to make it so much more difficult for me to write out my work directly next to the problem and I am going to have to change my study and memorization methods in order to be able to get a good score."
In order to replicate the new SAT testing format, students can refer to online tutor websites like Khan Academy, Tutor.com and Prep Scholar to study. 
The changes announced by the College Board have been met with both support and criticism, according to the College Board Newsroom. Some educators and advisors have praised this new implementation as one that increases equity and inclusiveness while others have raised concerns about the accuracy and technological difficulties introduced with this policy. Despite the ongoing speculations, College Board is dedicated to its goal of administering accessible tests to students.
"I do not support this new digital version of the SAT because all my study methods will now have to be changed," Wolff said. "However, I know of many people that do support this new policy which I could understand. No matter what, this change to making the SAT online was extremely preposterous and absurd."