Spring play shines spotlight on neurodivergent life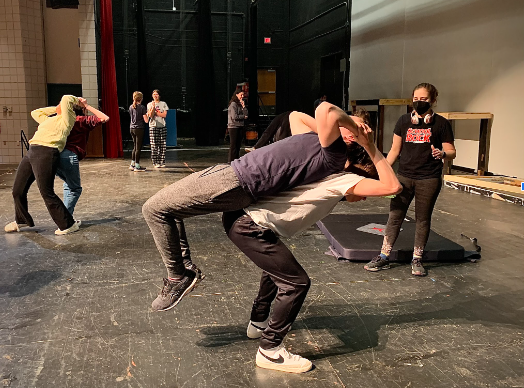 Met with a gruesome discovery—the lifeless body of his neighbor's dog, Wellington, stabbed with a garden fork—a 15-year-old takes it upon himself to look for answers. For the upcoming spring play, the theater department is working on "The Curious Incident of the Dog in the Night-Time," an adaptation of the Mark Haddon novel of the same name. 
The play follows neurodivergent teen Christopher as he searches for the who and why of Wellington's murder, all while exploring his passion for math. The original play made theater history in 2017 when it became the first to cast an openly autistic lead actor as Christoher, according to Playbill.
"I find this play unique to work on because one, it gives representation to the neurodivergent community, and two, it uses a lot of projections," freshman Peyton Dunham, who is head of set construction, said. "The high amount of projections actually makes my job more challenging, as I have to build more parts of the set in less time."
Rather than taking a more realistic approach to storytelling, the play features heavy use of lights, choreography and projections, which use computer-rendered graphics to create background scenery and illusions–such as images that appear three-dimensional. The combination of technical effects and choreographed movement results in a play with an energetic atmosphere.
"This show definitely leans more towards stylization than realism, which makes it a really fun experience for students to work on," theater director Andy Shaw said. "We're bringing in a lot of technical elements… to help show the world through [Christopher's] eyes, and the movement is also stylized, almost like a dance number in a musical; it's a very visually exciting show."
Another element of the show that must be handled by the production team is the use of live animals. Throughout the play, Christopher interacts with his pet rat, Toby.
"It took a little bit to get used to touching a live rat, and it even bit me once, but they are nice after you spend some time with them," senior Jack Wolff, who plays Christopher, said. "Getting to know a live rat made me feel more immersed into playing the role of Christopher; some people are scared of or are grossed out by rats, but Christopher sees them as clean and friendly, which I think also connects to the show's theme of people seeing things differently."
"The Curious Incident of the Dog in the Night-Time" will be showing on the CHS stage April 20 through April 23. Tickets can be purchased beforehand on the Chantilly Drama website or at the ticket booth outside the auditorium on the day of a performance.
"It's an excellent story, and I think that anyone in the audience will be able to both enjoy and relate to the play," Shaw said. "The story really goes into understanding that people process the world in different ways, which, whether you are neurodivergent or neurotypical, is a universal topic that anyone can associate with."