Students unwind by finding ways to stay active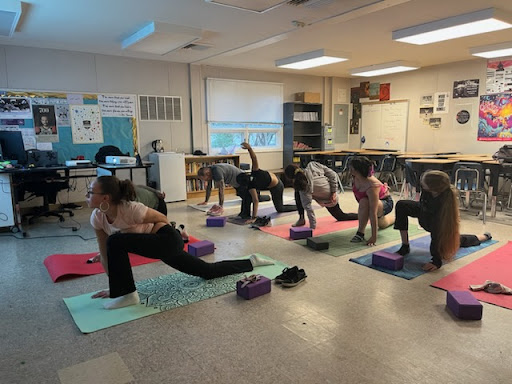 From lifting weights to practicing flip kicks, over 25% of students find themselves partaking in physical activities after school, according to the CDC. Not only do such pastimes reduce the risk of disease and assist with weight management, but they also give students an opportunity to improve their overall mood. 
"For me, dance is a nice distraction from worrying about homework right away, but working on something I love while improving my physical well-being," junior Harshitha Alluri said.  
Both traditional and classical dance is another way students stay active throughout the year. For example, dance styles like Hip Hop, tone one's muscles and provide a strong cardio workout while rejuvenating and restoring weak parts of the body. 
"The upbeat melodies of Hip Hop instantly put me in a good mood," Alluri said. "Even though the moves are fast, I love how I can express myself through the meaning of the songs." 
In addition, with physical education class not mandatory for juniors and seniors, many seek local gyms to get in their weekly workout. Gyms provide a plethora of resources, such as cardio equipment, strength training and fitness classes. 
"The gym provides specific machines, which are helpful for those who don't have this large and expensive equipment at home," junior Arnav Hosur said. "Personally, I use benches and cable machines the most at Planet Fitness because they allow me to get a full workout."
Specifically, Orange Theory Fitness and Planet Fitness are two popular exercise locations for students. These gyms have tiered pricing with student discounts and flexible hours, allowing students to spend quality time with their friends after school.
"In school, students are often cooped up in just a few rooms for the whole day, but the gym gives you the chance to move around and get your energy up," senior Natasha Guharoy said. 
Many also participate in forms of martial arts, such as karate. Not only do these activities teach self-defense skills, but they promote flexibility and agility. Unlike many team sports, martial arts enable individuals to progress at their own pace while increasing muscle strength. 
"My favorite part of martial arts was taking part in the World Cup tournaments," Hosur said. "I stepped out of my comfort zone and put the skills I have learned to the test in a competitive environment while getting a good workout in." 
Some choose to engage in yoga to improve balance and flexibility. For example, the cat-cow pose eases the discomfort of tender joints while the tree pose can increase blood flow. 
"Yoga makes me feel in the moment and gives me a piece of mind," junior Swara Somu said. "I love how I can stretch my muscles and forget about all the worries in my life in a matter of minutes, which is important for any physical activity."