First-, second-generation Vietnamese-Americans pass down culture, traditions
Over 1.8 million Vietnamese-Americans live in the United States today, with 67% having immigrated from Vietnam since 1975, according to the U.S. Census Bureau. As emigration from Vietnam to the U.S has steadily risen, immigrants have brought a diverse range of stories passed down within each generation.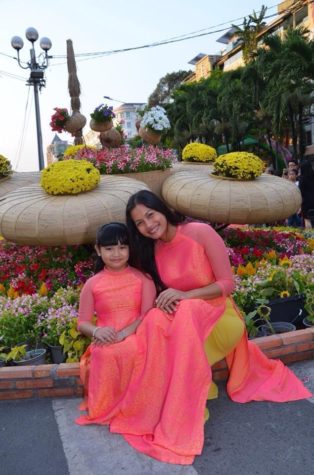 Luc Nguyen, English teacher
On April 30, 1975, Northern Vietnam achieved victory after the collapse of Saigon during the Vietnam War. The Americas, Japan, Australia and France sponsored thousands of Vietnamese as they escaped the country through boats and U.S. helicopters. Fast forward 38 years, second-generation English teacher Luc Nguyen was raised as a Vietnamese-American.
"My parents don't want to talk about the past part of the Vietnam War, and I think a big part of it is the language barrier, as I speak Vietnamese but not at a very fluent level," Luc said. "When I was a child and did ask about the war, they didn't give many details. Oftentimes, the questions that I wanted to ask my parents, I didn't have the vocabulary to say. None of it's their fault; obviously growing up in two different cultures can often lead to conflict."
With the flag of Saigon seen as you enter, Eden Center in Falls Church is the largest Vietnamese commercial center on the East Coast, focused on and home to Vietnamese business. Despite challenges presented by generational differences, assimilating to Vietnamese culture was important to Luc while growing up.
"I remember getting my haircut at the Eden Center, and when my parents forced me to go to Vietnamese school during the weekends and in the summertime as a kid," Luc said. "Looking back, I'm really glad that I still have that because I'm able to communicate with my parents and my relatives in Vietnamese, even in my class and my job. I've had students who don't really speak much English, but that means I've been able to connect with them that way."
Alongside being bilingual, as a way to further connect to the Vietnamese students at CHS, Luc sponsors the Vietnamese Student Association (VSA), which holds meetings in room 229 once a month after school.
An Nguyen, Sophomore
Halfway across the world, as motorbikes and cars navigate through the city, the busy chatter of pedestrians and the aroma of street food fill the air throughout the largest city in Vietnam: Ho Chi Minh City, or Saigon, as the Vietnamese community calls it. This bustling and lively atmosphere is the city where sophomore An Nguyen grew up before moving to Virginia as a first-generation immigrant.
"I really miss the noises in the city, like car and motorbike honking, people talking loudly and many other noises," An said. "I know this is kind of weird, but I've been living with it since I was born, so it is my childhood."
After several trips to America with her dad, An came to live in the U.S. with her family in December 2018. Not having visited her home country since she left five years ago at the age of 12, she experiences what American culture is like as a first-generation immigrant.
"Here is amazing, meeting other Vietnamese students," An said. "Although some Vietnamese only speak English, I don't feel any distance at all because we all have the same visible connection to Vietnamese culture. It's very cool to meet new people."
Phuoc Phan, Junior
As a child, the reminiscent scent from breakfast outings with his father in Ho Chi Minh City still linger in Junior Phuoc Phan's mind. Being a first-generation Vietnamese-American moving to Virginia at five years old, his family wanted a better education for him and his sister. Although he hopes to visit Vietnam again one day, Phan learns about his culture and traditions by spending time with his family.
"Although it was quite a different experience speaking with my family while growing up because I've learned to speak English on a daily basis, my Vietnamese is good enough to be able to have some fun," Phan said. "Having get-togethers with my aunts and uncles during the holidays is a way we embrace our culture. We eat a lot of food, sing karaoke and play games like 'bau cua ca cop' (squash-crab-fish-tiger), a traditional game where you bet money. It's really fun and I'm glad I get to spend time with them."
At a VSA meeting on March 9, students played Vietnamese song association and drank handmade boba. As the upcoming VSA president, Phan has plans for the club next year.
"I hope to build a community, not only in Chantilly, but across other high schools as well, because one big part of Vietnamese culture is getting together and is heavily revolving around family, and aspects of friendship," Phan said. "I hope we can learn more about our roots through cultural events or clubs through VSA, and just being involved in the Vietnamese community."