Mental Health Awareness Month reduces stigmas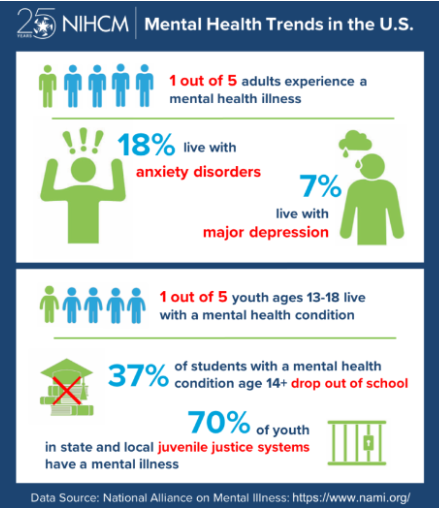 There has been a 13% increase in psychological disorders and substance use disorders in the last decade, according to the World Health Organization. By providing resources and opening up conversations to encourage those affected to seek support, Mental Health Awareness Month helps to reduce the increase of mental illness.
First established in 1949 by the United States Congress to increase attention for World War II veterans, Mental Health Awareness Month was a way to educate the public and reduce stigma around mental illness. Since then, our society has evolved and seeking out help for mental illnesses has become more normalized through social media and television, according to the National Library of Medicine. 
The Our Minds Matter club (OMM) works toward supporting students' mental health and helping them access resources. Every two weeks, the members of the club come together to converse about psychological health and what exactly it entails. They work with counselors and  school psychologists to find ways in which they can promote the general well being of students.
"This club is an important addition to the school because with mental health comes understanding, and something humans can always do is learn to understand and empathize with others," senior board member Sruti Karappati said. 
Several common stigmas surrounding mental illness include people being categorized as "crazy" and "weak" for seeking professional help. These beliefs often prevent people from reaching out and getting the resources they need. Mental Health Awareness Month brings attention to these by educating people on the importance of seeking help.
"No one bats an eye when someone has a physical injury or a cast on their arm," counselor Becky Clonts said. "However, when someone has a mental illness, people fail to recognize that it is a health issue that needs treatment. There are times when you need to see a psychologist or need to take medication and there should be no shame in that if it helps you live a better life."
CHS has counselors, a school psychologist, a school social worker and clinicians who cater to the mental health of students. They may recommend professionals, and in cases where students don't have insurance, refer them to the community services board where students can access free assessments and therapy.
"I think our school has great resources and staff that genuinely care about the health of the students," senior Nisha Shankar said. "I know that I would feel comfortable going to any of the counselors or the psychologist."
There are helplines for people that are struggling, such as the 988 Suicide & Crisis Lifeline. There are skilled and trained crisis workers who answer the texts and calls and provide immediate attention. There are also other organizations such as the National Alliance on Mental Health (NAMI). 
"I think Mental Health Awareness Month has greatly helped reduce the stigmas around mental health and spread the message that it is okay to not be okay," Shankar said.