Students travel to other academies for unique opportunities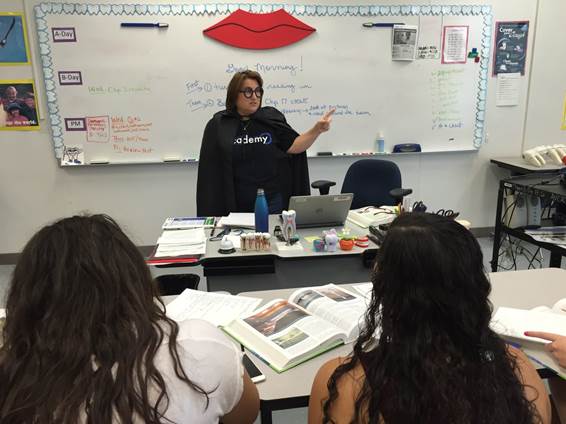 There are many opportunities for students to expand their learning outside the classroom. One way is through local Career and Technical Education programs such as firefighting and practical nursing.
Another option is to take classes at one of Fairfax County's six designated academies, which are subsets of schools that allow students to take career specific classes. For instance, Chantilly is home to the Governor's STEM Academy, providing many unique opportunities for students including ROTC and cyber security programs.
"We currently have students coming from 26 schools and centers to take electives at Chantilly that are not offered at their base schools," principal of the Governor's STEM Academy Virginia Muller said. "Likewise, students at Chantilly can take electives at other schools."
Some students are taking classes at Fairfax High School's Academy for Communication and The Arts.
Senior Mario Rivera-Reyes is taking Music Computer Technology at Fairfax because he hopes to pursue a career in music engineering.
"This class has the opportunity to do dual enrollment with NOVA to earn college credits, which also looks good on resumes," Rivera-Reyes said.
Students in this class are able to participate in hands-on learning with new software and equipment.
"My favorite part of class is when I get to use the software to develop a full-blown score for others to listen to," senior Chris Kwon, who also takes Music Computer Technology, said. "Being able to do that as graded work is the greatest feeling for me."
In addition to the arts classes taken at Fairfax Academy, students are able to take language classes that are not offered at most high schools, such as Chinese and Korean.
"Students in Fairfax County are lucky to have these opportunities," sophomore Celie Feighery, who travels to Fairfax High School to take Chinese, said. "I have been able to study Chinese in Hawaii, South Carolina and hopefully in China soon because of doors that learning Chinese has opened for me."
While the academies provide unique opportunities, some students choose to attend regular classes at other high schools to accommodate their schedules.
"I was originally supposed to take AP French at Chantilly, but due to a scheduling conflict with Medical Assistant, I take AP French at Westfield [High School]," senior Alice Wang said.
There are many ways that students are able to take classes to pursue their interests, including the wide array of classes offered at a multitude of schools.
"The best thing about the academies is that they allow students to pursue their passion," Muller said.