Student athletes commit to play in college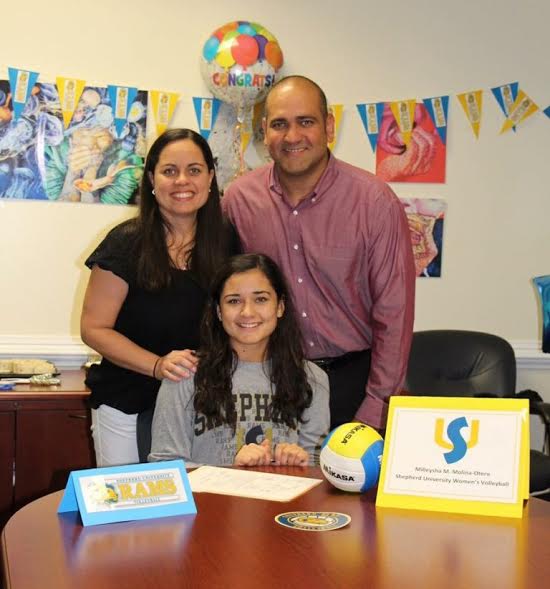 Choosing a college is difficult for anyone, but for student athletes who wish to continue to play in college, the process can be even more demanding and stressful. When the decision is finalized it brings happiness and relief to the students who have secured their athletic and academic future for the next four years. This fall, many Charger student athletes have made a commitment play in college.
"I chose Lehigh because it gives me an opportunity to play for a competitive program, but more importantly Lehigh focuses on a player's academic aspirations " senior Mary Clougherty said, "I absolutely love basketball but my main priority is academics."
Academic needs play a large role in the recruiting process. Students will often choose to look at schools based on how strong their academic programs are and the different types of majors they offer.
Senior Andres Alarcon, who has committed to swim at George Mason University, knows the importance of choosing a school with good academic opportunities.
"I want to study forensic science as my major in college," Alarcon said, "George Mason has one of the best forensic science departments in the country and that's a factor that contributed to my decisions to commit there."
Perspective students also want the right atmosphere from their future college. Recruiting trips that give athletes a chance to meet their possible coaches and teammates, as well as give them an opportunity to tour the campus, are essential in this process.
Senior Milleysha Molina's official recruiting trip to Shepherd University helped her finalize her decision to commit to play volleyball for the university.
"I love the coaches [at Shepherd University] and the girls made me feel like part of the team already," Molina said, "I also love the location, the town is so beautiful and as a bonus the campus is only an hour away from home."
The campus size and student population of a school all play into the student's choice on committing there.
"When I officially visited George Mason University, what immediately stuck out was the diversity of the student population," Alarcon said, "Also, everyone I met there was very friendly and down to earth."
The confusing and detailed process of college recruiting isn't just handled by the student athletes alone however, high school coaches have a large role in the process and they help to contact college coaches.
"My coach and recruiting director set up a recruiting log and had me fill in updated information about schools and who we had contacted with," senior Simone Jeffries, who has committed to North Carolina State University for volleyball, said, "They really helped me in terms of staying organized and being able to reach out to new coaches.
Parents are just as involved in helping their kids commit to a college, often acting as both a coach and a support system.
"My dad was the one who introduced [volleyball] to me and he's been my coach ever since and my mom has been [my] biggest cheerleader," Molina said, "They always believed I could play in college and they have both been so involved in this process, I am very grateful to have them."  
Despite committing to different colleges and playing various sports, all these student athletes have the same high level of dedication and love for their sport.
"I'm excited about swimming in college for sure," Alarcon said, "If I could right now I would. The [college] coaching staff is incredible and I believe it will bring out the best in me."