Academy administrator Virginia Muller to retire after 32 years of service to FCPS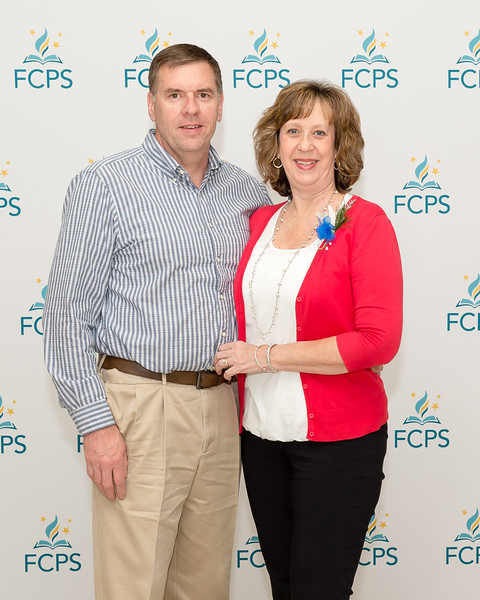 Leading the Chantilly Governor's STEM Academy over the past four years, administrator Virginia Muller has accomplished much; leaving behind a legacy of fairness, compassion and capability as she retires at the end of this school year after a total of 32 years of service to Fairfax County Public Schools (FCPS).
"Muller has brought in more businesses and business partners for us," principal Teresa Johnson said. "She's really enhanced our Governor's STEM Academy. While the previous administrator brought it here, she's just taken it to a whole new level ensuring that we are infusing STEM in all of our programs at the Academy."
Not only has Muller worked hard to improve upon the pre-existing program, but she truly loves her job.
"[What's best about working with the Academy is that] all the classes are nothing like regular high school [classes]; they're all electives, kids sign up because it's their passion or just maybe, 'I want to see what this is about,' and that's okay," Muller said. "So, all of our students choose to be here, they want to be here; [with] over 1500 kids, half of those ride a bus to get here just to take a class. It's just an amazing opportunity, the level of rigor and experiences that we provide to a high school student."
Muller has developed a deep appreciation for the community during her time working at Chantilly.
"It's a great place for kids, it's a wonderfully supportive community, and I mean community meaning parents, and also the businesses and the surrounding community," Muller said. "It's just a positive place to be, and that's awesome."
Muller takes her position as Academy administrator seriously and is very dedicated to her job.
"She's been a very large role in continuing with a grant and meeting with state officials over that, [and] she's so smart and innovative," Johnson said. "She's a caring and warm person; she's very effective at her job."
During her long career in FCPS, Muller's optimism has become one of her many hallmarks.
"What I love about teaching and working in high school is you never know what to anticipate each day," Muller said. "You can see that I'm a list person, and I have things that I need to get done, but some days I don't get any of that done, and that's okay."
Kindness and compassion are also qualities which Muller possesses in great abundance.
"She can take any situation and she's going to be so fair no matter what it is, if it's a student situation, if it's a faculty situation- she has the ability to look at anything and [makes you feel like] you're the focus of her time," Academy Career Experience Specialist Bonnie Wannett said. "Her personality is really good for this job; she's so kind and I think one of the things that really stands out is that she has that ability to be a really good administrator and think about policies and rules and regulations, but also you can tell she is a mom. She's really caring and you can come to her, and we've laughed together [and] cried together."
Viewing every day as a new opportunity, Muller works hard to create a welcoming atmosphere within the Academy.
"[Muller] has brought a new sense of community to the Academy, working on skills together; she's brought a lot to the community here," Johnson said. "Her level of professionalism and her ability to support teachers- she's created a very warm, caring environment [at the Academy] and has done a lot to support teachers."
As a leader, Muller finds ways to brighten the days of others around her.
"She can take any situation [and] she makes it fun; we still get our work done but she makes us enjoy doing it," Wannett said. "We always celebrate birthdays together, we love surprising each other [and] we always do funny things in our offices."
Muller treasures the relationships that she has built as Academy administrator.
"[My] favorite thing about Chantilly is the students and the staff," Muller said. "Everybody has a certain loyalty to their school because they think it's a great place to be, but this truly is a great place to be."
Always mindful of others, Muller helps to plan surprises and fun events with her co-workers.
"I had just come back from having my baby in February, [and] it's hard coming back from a baby to work, [although] I love my job," Wannett said. "[Muller and some of the faculty] had my office all decorated with little notes of encouragement, [a] crown, and [with] this saying [she loves], 'Never let anyone dull your sparkle.'"
As she retires, Muller will be greatly missed by all who had the privilege of working with her.
"I've known her 28 years, and I worked with her at Centreville High School," Johnson said. "So she's not just an administrator to me, she's also a friend, someone that I respect and trust a great deal, and I'm going to miss her personally a lot."
Muller is admired for her ability to handle just about any situation with courtesy and patience.
"She is so fair with everybody," Wannett said. "She is so calm and will treat everybody- no matter if it's a student, a teacher [or] a parent- with so much respect; I think that's one of her trademarks here."
Exchanging working life for an opportunity to relax, travel and figure out what her next steps are in life, Muller will be remembered for her capability, compassion and kindness to all.
"She cares about what's going on in your life and she always asks about everything," Wannett said. "She's one of those bright people, the perfect person you want to work for or work with."
Muller will be missed by Chantilly students and faculty alike, and will always be welcome back to the home of the Chargers.
"I'll miss the people. Not the day-to-day [routine, or the] stress, [but] absolutely the kids and staff. I hate saying goodbyes, so this is hard for me. Every day brings new challenges," Muller said. "A new day, a new lesson in the classroom, kids learning something new, kids finding out something new; I love that energy about this place."