Paying for Participation
School-related dues limit student extracurricular opportunities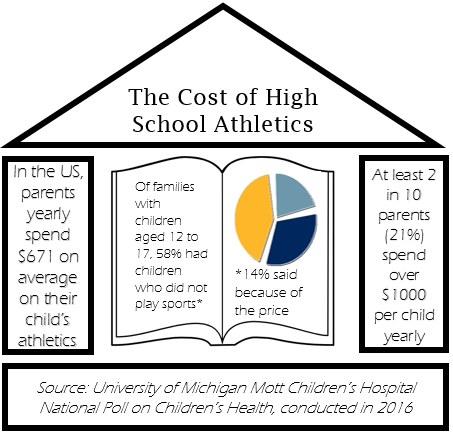 Public school was founded on the basic idea that every student, regardless of background or financial status, deserves an equal educational opportunity.
However, in recent years, the costs of extracurriculars, exams and clubs in public schools have increased.
"When they first made public schools, the level of education was not as demanding as it is now, so free school policy worked," junior Michelle Lee said. "But now, more is expected of us; now the standard is higher."
In this day and age, when students actively participate in multiple clubs and sports, the cost of education does not just include lunch.
"People who are thinking about college and higher education want to join as many clubs as possible, but you also have to pay for them," senior Ana Quintano said.
Typically in order to join a club, a payment is required. This money goes to help support the club and pays for senior cords and other related expenses.
In order to join DECA, for example, students must first enroll in a marketing class and then pay an upfront fee of $40.
Clubs are not the only activities that require payments. Honor societies also have fees, like the $15 students are required to pay to join French Honor Society. The funds go toward membership pins and certificates from the national organization, and any remaining money goes toward the school's chapter.
"Not only are clubs, outdoor activities and higher level classes time-consuming, but to actually add monetary value to them makes them so much more difficult to partake in," Lee said.
Some students pursue higher level classes in order to challenge themselves, which can add to the already increasing bill of public education. One of the main goals of taking an Advanced Placement (AP) class is to gain college credit, which can only be earned by passing the AP exam. As part of the FCPS Fiscal Year 2018 Approved Budget, the county adopted new fees for high school students regarding AP testing. The school system will pay for the first six AP tests that each student will take over the four years of high school, and after that, it is the student's responsibility to cover the costs. As listed on the FCPS website, the price of each AP exam, after the six paid for by FCPS, is $93.
Although students who qualify for the Free and Reduced-Price Meals program are exempt from the AP exam fee, the high cost of clubs and sports may dissuade many students from participating, thus their college applications could potentially lack the variety that students in good financial situations tend to have.
"People are in different situations; someone might only have one parent like I do," Quintano said. "I live with my mom, and that situation is hard because I do not work and it's only her income. So, we have to find something to help me pay for those things."   
In addition to AP exam fees, students in their junior year pay for their PSAT scores if they want to receive them back, and seniors must fund their SAT tests as well.
While the PSAT is a one-time payment, many students take the SAT multiple times, at around $50 for each test, causing strain on many families.
Students who cannot afford to give that $175 needed for girls' soccer or that $200 needed for robotics, due to their financial situations, may miss out on opportunities that could benefit them in the future.
While most families do realize that participation in school activities is important, the increasing costs of after-school activities can discourage students from joining. However, the school has initiatives in place to help students who may not be able to afford club and activity fees.
"I believe that the school has a very important responsibility to make sure that students never miss out on opportunities for reasons that are beyond their own control," Principal Scott Poole said.
While FCPS does help students who are in the Free and Reduced-Price Meals program, students who are not in the program but still struggle to pay school-related costs should be able to receive aid as well.
"It is not the students' fault, and we should ask everybody to responsibly pay what they can pay," Poole said.
Students should not be barred from participating in certain activities solely due to lack of monetary resources; they should be able to enjoy the same benefits as any other student.
"If there is a student who has a problem, they should talk to their counselor in a confidential setting and alert the school administration," Poole said. "We will take care of it."