Chargers get into the March Madness spirit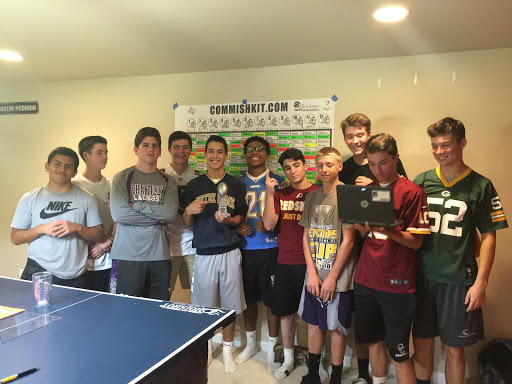 March Madness is a time of spirit, joy and heartbreaking disappointment that many staff and students embrace by having unique traditions that they take part in each year.
"I have brackets that I do for March Madness," social studies teacher and JV basketball coach Matt Stoner said. "The main brackets I do are for the school bracket competition that Kurt Sporkmann generally runs every year."
During the tournament, fans' spirits are brought out from the different wins and losses that bring makes them to their feet.
"The camaraderie the tournament brings makes it even more enjoyable to watch with my friends," senior Nick Giannini said.   
This year, the selection process for organizing who is put into the tournament was on March 17. The tournament began on the 19th, and the final game will be played on April 8.
March Madness has a long and rich history that gets many people intrigued by their favorite college basketball team.
"I grew up in a basketball family and my favorite team, St. Johns, hasn't been in the tournament for a long time, we were close this year to making the tournament," Stoner said.
The March Madness Division I Men's Basketball Tournament, branded as NCAA March Madness, is a single elimination tournament played each spring in the United States.
The tournament features 64 college basketball teams from the Division I level programs of the National Collegiate Athletic Association, to determine the national championship.
"The history of March Madness proves why it is the greatest sports event in history," senior Peter Schwarz said. "Every year there seems to be a Cinderella story, where no name teams shine in the spotlight and partake in a huge upset."
The tournament was created in 1939 by the National Association of Basketball Coaches, and was the idea of The Ohio State University Coach Harold Olsen.  
Chantilly has a few small group events to celebrate March Madness. The school's staff has a tradition every year of holding a March Madness tournament to have the bragging rights of the winner.
"I am a post champion of the Chantilly bracket," Stoner said. "The competition at Chantilly High School is something I take great pride in, and I try to make it to the final four of the tournament every year."
Students also get in on the March Madness spirit of having friendly competitions with their friends.
"I've started to host at my house watching some of the games when the tourney gets to the elite eight, final four  and then the championship game," senior Nick Giannini said.
With such an exciting event during March, it is the joy of sports that brings people together.