The Streaming World Welcomes a New Player: Disney+
As streaming video sites such as Hulu and Netflix draw worldwide attention for their entertainment services, others such as Disney have decided to join the game. On Nov. 12, Disney's new streaming site, Disney+, will be active in the U.S., Canada and the Netherlands. However, Disney has released a timeline displaying that the service is expected to be streamed worldwide over the course of the next two years.
Not only are all Disney movie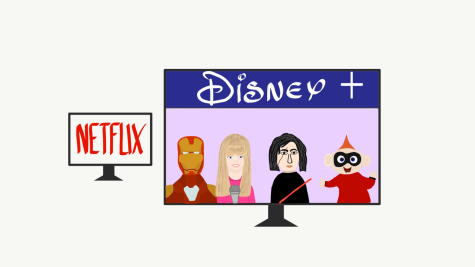 s leaving Netflix, but by 2020, Disney+ will have taken with it all productions from Marvel, Pixar, LucasFilm and National Geographic. 
"The likely niche market of die-hard Disney fans will subscribe right away," marketing teacher Jennifer Piotrowski said. "Many movies have been retired in the vault that will be brought back, and those who are huge Disney fans will draw to that."
After opting not to renew their contract with Netflix at the end of 2018, Disney's Board of Directors promptly bought out all shares in both Hulu and ESPN. Come November, the companies will operate on one database, so customers can use all three together at a bundled price. While the merge looks promising to some, a few loyal Netflix fans are disappointed that their favorite content won't be on one platform anymore.
"You have to go to eight different channels to find one show that you like to watch, and you're spending all your money on these different channels," sophomore Katie Craddock said. "Not only is it expensive, unnecessary, and a waste of time but also it's annoying." 
Disney+ will be an ad-free service charging $6.99 per month or $70 a year, a considerable decrease from the average $13 per month charged by Netflix. These low prices come with a cost for Disney, however. According to the Consumer News and Business Channel, Disney is expected to take a $150 million hit, though they expect to gain back what they lost fairly quickly.
"I think Disney+ is a great marketing strategy for Disney," freshman Faris Sabit said. "With Disney+, they are able to expand their monopoly."
Though it will still maintain its current programs, Hulu will also host much of Disney's more adult-rated content. These additions include everything Disney acquired when they bought 20th Century Fox and its FX networks earlier this year, such as "Deadpool," "American Horror Story," and "It's Always Sunny in Philadelphia."
Disney has also announced plans for six new original series, including a "Star Wars" spin-off, a series featuring Obi-Wan Kenobi and three new Marvel TV shows.
"I'll probably end up leaning more toward Disney because it already has things that I'm invested in," Craddock said. "Meanwhile Netflix is creating new things that I haven't put any of my time in."
Disney's decision to break away from Netflix has created somewhat of a ripple effect among other entertainment companies. After purchasing WarnerMedia in 2018, AT&T's Entertainment Services decided to create its own streaming site. It is taking some of HBO's hit shows, such as "Game of Thrones" and "Sex in the City," as well as one of Netflix's most popular series, "Friends." NBC Universal is also moving its content from Netflix to its own service. NBC's "The Office," Netflix's most-watched program according to The Wall Street Journal, will leave Netflix in January 2021. Many media consumers are feeling overwhelmed by the slew of new streaming sites.
"Because we pay for Direct TV, Amazon Prime, Fios Internet and Netflix, I would probably say [I'm] not so excited," Piotrowski said. "One more thing to add to the list."
This new competition will have a crippling effect on Netflix. According to Forbes, Netflix's stock rose 8,500% in the past decade. Since the announcements of these new streaming services, Netflix has been scrambling to produce new shows, raising its debt by a total of $10.3 billion, though they only made $1.2 billion last year. Despite the anger of some Netflix fans, many are looking forward to the varied options that the array of streaming services will provide.
"Because Disney+ will be bundled with ESPN+ and Hulu at a discounted price, it will be a success," Piotrowki said. "This will be the wave of television in the future."