Chantilly reflects on Veterans Day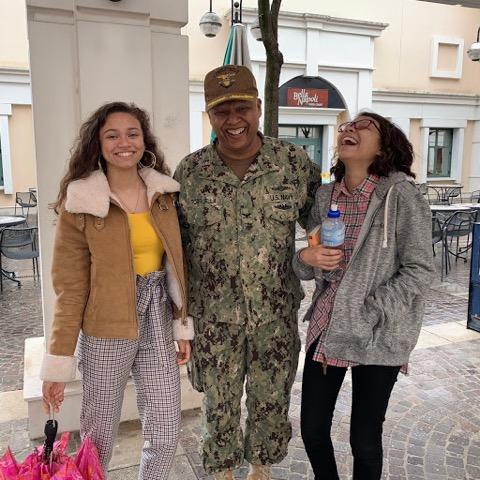 Moving from place to place and worrying about a loved one serving far away is just a fragment of what a military family experiences. This Veterans Day, while parents of military families are committed to serving our country, the challenges their children face should also be recognized. 
"Being a dependent of a naval officer has had its ups and downs," senior Kailani Torruella said. "But I wouldn't have it any other way. I've been raised by so many cultures in so many places, so I'm just a well-rounded person suited to getting along with anyone."
Military families move frequently, and students must learn to adapt to each new environment.
"I've moved eight times in total. I've lived in Hawaii, Japan, Virginia, California, Germany and Italy," Torruella said. "You get used to culture shock after a while, and soon it all becomes quite normal."
Students in military families have created lifelong connections with people through the unique experience of moving around the world.
"I've met so many great people," sophomore Austin Uhlir said. "I even met my best friend four and a half years ago." 
Sophomore James Gunn, whose father is currently serving in the Air Force in South Korea, has lived in Japan, Oregon, Korea, Texas, Florida and Virginia because of his father's job.
"When my dad goes TDY [temporary duty yonder], certain things that were easy become harder to deal with, like transportation and having peace between my younger siblings," Gunn said.
Air Force Junior Reserve Officer Training Corps (AFJROTC) instructor Chief Master Al Clemmons, who served in the Air Force for 30 years, regrets not being with his family for significant events.
"One of the biggest struggles [was] missing things— missing your kids' dance recitals, missing a soccer game, missing a graduation from middle school," Clemmons said.
The family of Lieutenant Colonel Tim Lambert, an AFJROTC instructor who served in the Air Force for 22 years, had to relocate multiple times.
"It's hard as the kids get older," Lambert said. "Once they get into middle or high school, they get close to friends and you say 'Well, we got another plan.'"
On Veterans Day, it's important to remember the sacrifices of military families.
"I think the hardest job was my bride's, because she was a single parent during that time," Clemmons said. "We had 28 years together in the Air Force, and seven of those, we were separated. That's a lot to ask."
Being part of a military household isn't easy, but it offers a truly unique experience. 
"I've seen the world and I've grown up so open-minded," Torruella said. "The world is my home."