Korean Exchange program offers new perspective on school life
High school students rarely get the chance to experience a different country aside from traveling to popular tourist sites and visiting the main attractions. Through exchange programs, students are given the opportunity to broaden their perspectives and become immersed into a different culture by living with an international student. For the first time, Chantilly High School participated in a Korean exchange program with Sangwon High School in Daegu, South Korea. 
"The program has been at Westfield and Centreville High School for a number of years, and is in part sponsored by Mr. [Ilryong] Moon, our school board member," Tim O'Reilly, assistant principal and head of the program, said. "He reached out to principals of other schools that have a large Korean population, and Dr. Poole had an interest in doing an exchange."
Six students from Chantilly hosted 12 exchange students from South Korea, providing a look into what life is like in America. In the spring, the host students will be traveling to Korea to learn more about Korean culture.
"I got along great with Dakyung and Subin. We met up with the other hosts and exchange students and basically bonded and got to know each other, which was great," sophomore and host student Elise Engelen said. "The language barrier doesn't stop us from having fun with each other in any way."
While schools in America participate in competitive sports and students move to their own classes throughout the day, most Korean schools don't offer sports and the students stay seated while teachers rotate to their classes. The small differences between the two countries' school systems make everything a new experience.
"The environment and vibe here is so different from Korea. It's very lively and open-minded here," exchange student Hyeon Ji Lee said. "The teachers seem more open to students using their phones, while in Korea, you can't have your phone out at all. We also wear uniforms in Korea; if you don't wear your uniforms, you get into a lot of trouble."
The homogenous society in Korea influences some to want to break free from the familiar culture and experience something new.
"Sometimes it's suffocating to live in a place where everyone is Korean and everyone speaks Korean," exchange student Jeong Yeon Kim said. "But here, everything is diverse and there's a lot of different things to experience." 
While many are excited for the cultural insight that the program offers, this exchange also makes for an opportunity to improve in language studies. 
"I really want to improve my Korean," Engelen said. "I've been learning for about two years, so getting this opportunity to fully immerse myself in the language will really help me take that next step to fluency."
South Korea is known as one of the fastest developing countriesin the world. Despite essentially starting from scratch after the Korean War left the land barren, South Korea became immensely industrialized and developed within the span of only a few decades. What was once known as a third-world country has now developed into one of the world's richest countries. South Korea has much to offer, which has many excited for the cultural and memorable experiences that the program provides.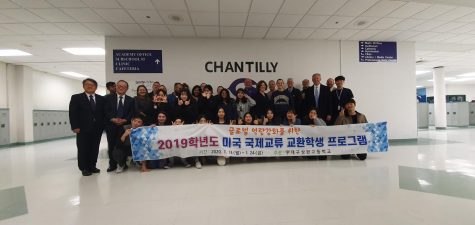 "It's great to go out and experience other cultures," Engelen said. "It helps you become aware of the world around you."