Why Americans are worried about coronavirus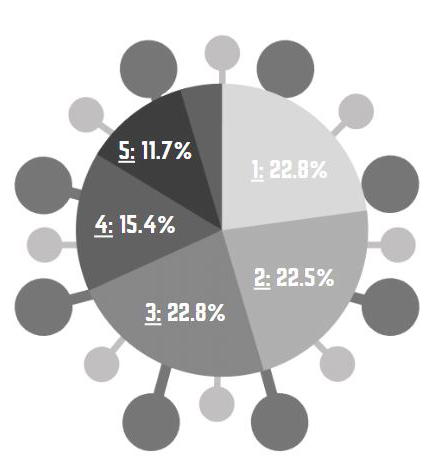 The December 2019 outbreak of pneumonia in Wuhan, China was quickly traced to a new strain of coronavirus, a type of virus that causes a range of respiratory infections including the common cold. The novel coronavirus, named COVID-19, has reached 111,864 confirmed cases worldwide and is responsible for 3,893 deaths as of print time, most but not all having occurred in China.
"The virus is still very active; it hasn't plateaued. Even though they're trying to isolate it in China, it's still growing," biology teacher Donald Casias said. "The most susceptible population to this virus is the elderly and the very young. Their immune system is more compromised."
Over the course of a couple months, the virus' presence in China spread to numerous countries around the world, with the World Health Organization (WHO) reporting that Italy, South Korea and Iran have cases in the thousands. According to NBC, more than 550 cases and 22 deaths have been confirmed in the U.S. at time of print. Of those cases, nine have emerged in the Washington, D.C. area, including two in Northern Virginia: a Marine in Fort Belvoir and a man in his 80s in Fairfax City. In addition, two congresspeople are self-quarantining after interacting with a man at a political conference who tested positive for coronavirus. In a poll of 324 Chantilly students, 309 of those surveyed said they are worried about coronavirus in the U.S. 
"I don't think coronavirus here in the U.S. is anything to be too worried about," senior Ruby Carter-Ogden, who participated in a selective summer program held by the U.S. Centers for Disease Control and Prevention (CDC), said. "For starters, we're a first-world country, so we have more resources than a few other countries out there who've been impacted."
Though the outbreak of coronavirus that began in Wuhan is recent, COVID-19 is precedented by a history of several fatal coronavirus outbreaks since 2000.
"The dangerous part of this novel coronavirus is its similarities to SARS (SARS-CoV) and MERS (MERS-CoV)," Casias said. "SARS is the first one that came out, in Taiwan, and the second one was MERS; it came out in the Middle East."
Casias believes that the widespread concern established before people in the U.S. tested positive for the virus can be attributed to an overactive news media focus on current virus statistics.
"You look on the media every day and they have something about the virus. You're going to be afraid. Don't concentrate on what they're saying," Casias said. "You want to go to the sources that really look at the thing; that's the World Health Organization and the CDC."
Aside from an overzealous media presence, there may be another cause for excessive concern around coronavirus. Some feel that the fear around COVID-19 results partially from xenophobia, a fear of foreigners, or from a fear of other races. In the same poll referenced above, 72.5% of students say they have heard a racist or racially insensitive joke about coronavirus. 
"It's unfortunate, but I think people should worry less about making an 'Asian person' joke and worry more about washing their hands before they eat a slice of pizza," Carter-Ogden said. "The jokes are stupid, but it's what always happens during outbreaks."
Some have compared the tidal wave of TikTok videos and jokes about coronavirus to the surge of memes about the Ebola outbreak in 2014, while others view them as inoffensive.
"They're just jokes. It's not like it's on purpose," senior Yannie Wu, who traveled to Shanghai with her family in December, said. "They'll be like, 'Weren't you in China during winter break?'"
For anyone concerned about COVID-19, Casias has advice backed by the CDC and WHO.
"The biggest thing you need to do is wash your hands. Cover your mouth when you're coughing into the crease of the elbow. Just basic things that we do for the flu," Casias said. "If you're sick, stay home. Kids feel like if they don't come to school, they're going to miss material. But you have the potential for getting more and more people sick."