ICE's ethics questioned by many
Since the beginning of Donald Trump's presidential campaign back in 2016, the US Department of Immigrant and Customs Enforcement (ICE) has been cracking down on illegal immigration. However, over the last four years, many people have questioned ICE's ethicality and operating tactics.
In 2003, ICE was created as a branch of the U.S. Department of Homeland Security. According to ICE's website, the formation of the bureau and others like it was due to 9/11. The bureau is responsible for preventing human trafficking, drug smuggling, terrorism and illegal weapons smuggling. Their main mission is dealing with illegal aliens entering the U.S.
One of their tactics is the impersonation of police officers. An article by News Spectrum NY tells the story of Eved Sanchez and his wife Edith and their encounter with an ICE agent. In the article, Edith explains a man claiming to be a cop knocked on her door and asked her for information on an investigation. Edith told him to leave, but instead, the agent waited outside their apartment for 30 minutes before apprehending Edith and Sanchez, explaining that her husband was being detained. Edith claims that the agent showed no warrant for Sanchez's arrest, which is illegal and only gave her a document with her husband's court date on it.
"I understand the need for bold strokes in law enforcement, but by and large, ICE is acting without transparency, making it difficult to judge their actions objectively," junior Edward Paras said.
In 2018, the Trump administration announced that they had lost track of 1,500 children who were in ICE custody. According to the New York Times, in September of 2018, these children were placed with sponsors. However, when the Department of Health and Human Services were checking the kids, 1,488 out of 11,254 of the sponsors didn't respond.
This wasn't the first time this had happened. In April of 2018, the New York Times reported that 1,475 children were also placed with sponsors who never responded to the check-up calls.
In September, allegations were brought up about ICE's practices in a facility in Georgia, where they forced hysterectomies on women being detained there. Dawn Wooten, a nurse at the Irwin County Detention Center in Georgia, alerted the public eye to what was happening.
"[We are] treating each other as if they are aliens to us," junior Genar Padel said. "This is our home and we each need to be treated like equals no matter the situation."
According to an MSNBC news piece, complaints were filed by defense attorneys and staff members working there, Wooten being one of them. The complaints explain that not only was ICE performing forced hysterectomies but that the facility was not abiding by COVID-19 safety requirements. The doctor who was performing these medical procedures was Mahendra Amin, who isn't even a board-certified OB-GYN according to a Business Insider article.
"In the wake of COVID-19, ICE has also failed to protect people's right to health and safety," senior Amanda Nguyen said. "They have not taken the proper precautions, and many detainee's health is rapidly deteriorating."
About the Contributor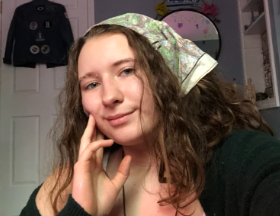 Blake Jocuns, Copy Editor
Blake Jocuns is a junior this year, and when not at school, they can probably be found at a volleyball court. They have a love for science and politics,...