Teachers support students with learning disabilities
For those with learning disabilities, the virtual environment can pose academic challenges. Some students have difficulty processing visual or auditory information or remembering material presented in certain ways. Due to the lack of face-to-face interaction, special education teachers are working to find additional ways to support these students, both in academics and mental health.
"By the time they get to high school, students with learning disabilities have often experienced a lot of failure and many feel like they aren't smart," special education teacher Denise Diaz said. "My job is to help students be successful, discover their strengths and find ways to compensate for the difficulties they have."
This support goes beyond the classroom. Teachers also connect students with their counselors, social workers or school psychologists if they seem to be struggling past an academic level.
"[Offering] one-on-one support and regularly checking in with students are helpful for both the student and the teacher," special education teacher Bradley Perrow said. "The most important part of my job is helping students see their value. Students need to know that by using their strengths, their experiences and their kindness, they can make a positive difference for themselves and for others."
Teachers continue to provide differentiated instruction through scaffolding strategies, varied instructional settings and classroom accommodations, such as extended time on assignments. 
"I've tried to be as flexible as I can with students when they express that they would like my support," Diaz said. "[Since] students are in all kinds of learning environments, we try to make sure that they have working technology and access to reliable Wi-Fi."
Additionally, students have access to online resources for learning and effective communication, such as Google Voice Typing or Natural Reader, as well as audio books and other reading materials through websites like AIM-VA.
"Students with learning disabilities typically need additional support accessing the general education curriculum," Perrow said. "Online resources [are] one way that support is provided."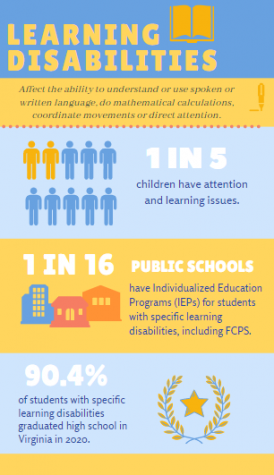 For personal guidance, teachers provide counsel in breakout rooms, opportunities for students to connect after school and individual support during office hours in order to mirror the collaborative setting of in-person learning.
"I am giving students a lot of time in class to do their work so that I can be checking in on them while they are working," Diaz said. "However, it takes a very long time since students seem less likely to ask for one-on-one support in the virtual environment."
Teachers try to ensure that students feel comfortable enough to actively participate and encourage them to turn on their cameras while being mindful of their personal preferences and technical issues that they might be facing. 
"When a student struggles with an assignment, it is difficult to give them the best support if the teacher cannot talk with them, see them or see their screen," Perrow said. "Students should feel safe, welcome and free to speak up during class, so that [we can] gain a better understanding of how [they] learn." 
Last year, 14.97% of FCPS students were enrolled in special education services. Teachers try to ensure that those with learning disabilities are able to keep up with their peers in the path to standard and advanced diplomas.
"My students are amazing people with so much to offer, especially in terms of empathy and understanding," Diaz said. "Learning disabilities have nothing to do with intelligence. We often judge students in a very narrow band of performance, which is academics, when there are so many other areas of life that are just as important, if not more so."