Christmas day festivities celebrated by families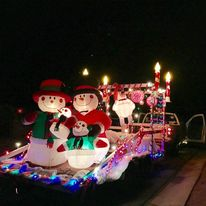 Running downstairs on Christmas morning to see presents surrounding the tree is a moment that many children look forward to every year. For many students, presents are still a magical part of Christmas day.
"My grandparents and parents wait downstairs for my siblings and me to rush downstairs every Christmas morning to find all of Santa's presents under the tree," senior Olivia Grindal said. "After we open the presents sent by Santa, my aunt, uncle and cousin come over to our house and we open stockings in order of oldest to youngest."
Unlike the typical approach to presents, junior Kylie Finney's family does a single gift exchange with all their cousins.
"We also have a [tradition] through our family where each cousin gets assigned a certain person, kind of like secret Santa, but you know who has you," Finney said. "It switches every year and you get only one person a gift."
As people grow up, there are many other parts to the holiday that make it magical. Another component of Christmas morning that people look forward to is breakfast traditions. A special Christmas breakfast can be a fun way to start the day of family festivities.
"After all the presents are opened, my grandpa and aunt start to make Christmas breakfast, which is always monkey bread and sausage casserole," Grindal said.
Before the pandemic, many families traveled during Christmas time. English teacher Deborah Wydra typically goes to Arizona for the holidays to meet up with the other side of her family, although may not be doing this now due to COVID-19. Unique from other families, the Wydras begin the holiday with fresh air.
"Christmas morning started with the 80-year-olds leading everyone on a three-mile hike up Flag Mountain, followed by nine holes of desert golf," Wydra said.
The Christmas festivities in their family don't start on Christmas day, but the days prior as well. Wydra and her family prepare for the evening Christmas parade in Arizona.
"My sister would bring her 35-foot RV every year, and we covered it with moving Santa figures, tinsel, glowing stars and lights," Wydra said. "My sister could whip that float around corners with such skill that my brother and I called her the Cummins Diesel Goddess."
The Wydra family also has a special tradition to honor family members who have passed during their annual Christmas dinner.
"Once seated, [my brother-in-law] Kenny would lead us in a blessing for the empty plate for those who have passed," Wydra said. "The rest of the day would involve spirited political discussions and family history sharing."
Although this year may be different due to the pandemic, families still find ways to celebrate with each other.
"Christmas is always very special because I get to spend so much time with my family," Grindal said. "We always go to a Christmas Eve service and I get to spend time off from school."