Ocasio-Cortez creates history in the House of Representatives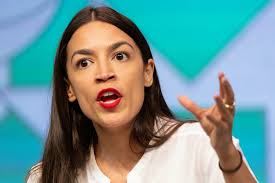 A woman that used to bartend late at night, relying on tips, soon found an interest in politics and built a career out of it. To Gen Z, she is known as AOC. To the United States House of Representatives, she is Alexandria Ocasio-Cortez, who made herself a prominent figure by showing everyone where she stands regarding controversial issues. 
According to the Guardian, Alexandria Ocasio-Cortez made history in New York after defeating a 10-year incumbent and fourth-ranking Democrat in the House, Joe Crowley. Ocasio-Cortez uses social media platforms like Instagram and Twitter, where she has become an icon by educating her followers on the policies that she stands for and supports.   
"Alexandria Ocasio-Cortez is setting an example for the youth of America. Her position in society is a dignified victory for women everywhere," senior Sheershika Mittapally said. 
On Jan. 3, 2019, Ocasio-Cortez was sworn into Congress, representing New York's 14th congressional district, which includes parts of The Bronx and Queens. As the second youngest person to be elected as a representative of the House, she has made history becoming the first of the two members of the Democratic Socialists of America to have a seat in Congress along with Rashida Tlaib of Michigan.
"She is also, in many ways, just like the typical American, working from the ground up at a bar, having a loving partner and having friendly conversations with those in her community," sophomore Hannah Moghaddar said. 
On her first day in office, she participated in a climate change protest right outside of Nancy Pelosi's office. According to her website, she proposed the Green New Deal Resolution which provides measures on how the US would tackle climate change, protect the planet and help the community along the way. This plan also creates millions of jobs in new green industries. 
In addition, she has worked to keep check on the president. On Feb. 27, Ocasio-Cortez interrogated Micheal Cohen, previously President Donald Trump's lawyer, during a congressional testimony. She got him to mention people who would testify in Congress to gain more information about Trump's past. Stormy Daniels, Alan Weisselberg and Donald Trump Jr. rose throughout Cohen's inquiry. This allowed Democrats to have more evidence in order to make a move into Trump's tax returns, as Ocasio-Cortez helped draft a case to get Trumps' tax returns since he did not reveal them when he had become a president. Recent news from the New York Times states that President Trump had paid $750 in federal income taxes in the year he became president and his first year in office. 
Ocasio-Cortez had faced sexism when she was climbing the steps of the House. However, she takes this negativity and turns it into an opportunity to help empower other women in the field of politics. Ocasio-Cortez called on several women of the Democratic Party in the House to share their experience of mistreatment by men. Women like Representative Pramila Jayapal of Washington, Representative Debbie Wasserman Schultz of Florida and Speaker of the House Nancy Pelosi of California also spoke out about the mistreatment of men in Congress along with Ocasio-Cortez. Her focus on stopping violence against women, responding to climate change and making the justice system more equal has empowered and inspired many Americans. 
 "Alexandria Ocasio-Cortez represents the future of America, especially women who refuse to be silenced and refuse to apologize for their passion," Mittapally said.