Wrestling team changes dynamic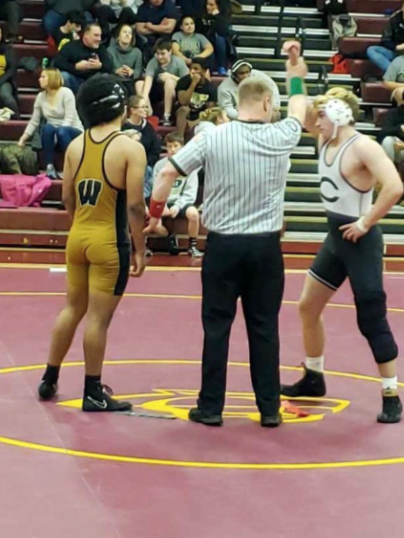 Motivated by team spirit and hard work, the wrestling team is now training differently due to the rise of COVID-19 and virtual school. These changes have altered team dynamics and schedules.
"Due to COVID-19, the athletes have to do more individual training and weightlifting," senior and wrestling team member Nolan Riley said. "The responsibility of running and working on wrestling [are actually handled] well now, because wrestling is an individual sport when you are on the mat by yourself."
The current environment has also limited the recruiting process, making it difficult to gain more participants for both the JV and varsity teams.
"I believe we have a lot less people than usual. Usually, [before COVID-19] wrestling recruits kids to play during school so more people show up, but [considering virtual learning] our numbers have been [smaller]," Riley said.
Members of the team have been focusing on personal goals while supporting each other in hopes of a winter season. With the Virginia High School League (VHSL) announcing that the season will start on Dec. 14, many members are looking forward to the approaching competitive season. The wrestling team's practice now consists of mile runs, sprints and working on techniques with partners and coaches to improve out on the mat. The team members' high hopes and vigorous individual training led them to look forward to a better year. 
"Before, the coach [would] send out emails informing us of the time and date we [would] all [meet] virtually to discuss the season," senior and wrestling team member Logan Parrish said. "Now, we are conditioning two days a week in order to get back in shape for the season."
"
"I've written a statement on a notecard [that] I've put in my room and [on my] squat rack and [it] says 'I'm going to be a district champion.'""
— wrestling team member, Nolan Riley
In order to continue the season safely, VHSL has taken precautions by adding new guidelines for return to participation. Athletes are now required to wear face coverings, condition at home, clean sporting equipment and must additionally follow the guidelines stated by the Virginia Department of Health (VDH) as well. However, uncertainty with the rise of COVID-19 and school reopenings continues to spread fear of sudden cancellations for the sports team.
"If the season were to be canceled, I would be unable to wrestle my final year at Chantilly," Parrish said. "I would be unable to redeem last year where I broke my shoulder and would miss out on hanging with my teammates."
With upcoming matches on Jan. 6, Jan. 9, and Jan. 16 against Westfield High School, South Lakes High School, and Langley High School, the wrestling team is looking forward to a great season.
"Personally, I have high hopes for this season as my coaches and I believe that I can win a district and region title," Riley said. "I've written a statement on a notecard [that] I've put in my room and [on my] squat rack and [it] says 'I'm going to be a district champion.'"