Artistic, rhythmic gymnastics require different strengths
Not only is gymnastics a sport that increases physical strength, grace and flexibility, it also encourages hard work and discipline for aspiring athletes according to the USA Gymnastics guide. With a variety of difficult skills to learn and events to attend, the sport becomes an engaging and exciting activity for young athletes. 
Among the gymnastic types athletes can choose from, rhythmic gymnastics and artistic gymnastics are two of the most commonly known. Rhythmic gymnastics are more for people who like dancing while artistic gymnastics is recommended for strength. 
"Gymnastics includes artistry, power, speed, agility and adaptability all in one sport," senior and varsity gymnast Alexandra Reaves said. "It has been a creative outlet for me and it is one of my biggest life teachers." 
One of the more commonly known gymnastic types is artistic gymnastics. There are four events in women's gymnastics—vault, uneven bars, balance beam and floor exercise. Artistic gymnastics is for both men and women testing agility, balance and strength. This sport is best for strong people who have a sense of rhythm as well as strong techniques in every muscle group. 
For me, this sport doesn't fit me as well because I am very scared of flips that it took me two years to learn how to do a front walkover.  In addition, although being short helps artistic gymnasts move easier, I can't imagine trying to make myself shorter so I can continue doing this sport. Nevertheless, other people might like these characteristics of artistic gymnastics. 
"There isn't really an easiest or hardest event, at least in my opinion they're all different reasons for being difficult and it's very subjective," senior and varsity gymnast Maddie Bullock said. "My best event is the beam, but it's scary and extremely high risk so I'd say the most fun event for me is the floor."
Unlike artistic gymnasts that compete on one or all four events, rhythmic gymnasts only perform on the floor which is much softer and wider than the artistic floor. Rhythmic routines are fast-paced, choreographed to music, involving body skills and dance, combined with the soft and gentle handling of small equipment. The choreography must cover the entire floor and contain a balanced flowing combination of jumps, leaps, pivots, balances and flexibility movements in 75 to 90 seconds.
"
"To me, gymnastics means being part of a team and doing what you love. Doing gymnastics is what I thoroughly enjoy, which is why to me it means passion."
— sophomore rhythmic gymnast Brianna Edwards
"In rhythmic, you manipulate apparatuses such as a ball, a hoop, clubs, a ribbon and sometimes a rope while dancing," sophomore and rhythmic gymnast Brianna Edwards said. "It has elements of ballet in turns such as fouettés. I love this sport because of the flexibility of gymnasts and how gracefully they move with their equipment."
This form of the sport is better suited for fast people who are more flexible and graceful, as the primary focus is to achieve ballet-like agility. However, it requires a lot of time, hard work and dedication in order to achieve a spot on the National team. One of the characteristics of this sport is the differing music of each piece of equipment that is selected through the personality and the likings of the gymnast. The beautiful leotards, which are the clothing worn in competition, and the different skills and handlings of the equipment. 
"I don't like how gymnastics requires so much hard work and dedication. The conditioning is very tiring and stretching is painful," Edwards said. "The practice hours are so long as well! It's definitely a sport that requires a lot of dedication and you have to love it a lot to put so much time and effort into it." 
Some benefits of both artistic and rhythmic gymnastics are getting more flexible and strong both physically and mentally. It is important to control the fear and nervousness in competitions, as well as manage time for school and practices because it can sometimes make the gymnasts want to quit and give up. Through this way, gymnasts learn to keep themselves together in order to move on and improve. 
Some determinants are the competition between teammates and parents. Although friends with close relationships, jealousy, competitions, and verbal fightings exist throughout trainings. Even so, gymnastics is an amusing sport with many ups and downs in the process of becoming a better gymnast.
"Starting a competitive and involved sport like artistic gymnastics at a young age has allowed me to learn a lot about time management. With more practices and school work as I got older, I had to learn how to create a schedule that worked for me," senior and varsity gymnast Macie Vance said. "Gymnastics has also benefited me by allowing me to meet many new people and keep myself involved in a fun sport that also keeps me in shape."
Overall, both forms of gymnastics are enjoyable sports that keep people physically and mentally fit. Each type has distinctive charms and means something special to each gymnast. 
"To me, gymnastics means being part of a team and doing what you love," Edwards said. "Doing gymnastics is what I thoroughly enjoy, which is why to me it means passion."
Leave a Comment
Donate to The Purple Tide
Your donation will support the student journalists of Chantilly High School. Your contribution will allow us to cover our printing and annual website hosting costs.
About the Contributor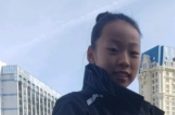 Kaylee Baek, Staff Writer
Kaylee Baek is a freshman and this is her first year of The Purple Tide. In her free time, she enjoys baking, reading, writing and is part of both the...