Students absorb essence of Valentine's Day
The execution of two men by the Romans and the celebration of spring and fertility has made its way into a mainstay holiday. Valentine's Day is the result of the Catholic church changing the Roman holiday into a day that now celebrates relationships past, present and future.
"I think Valentine's Day is a sweet holiday with pure intentions of love. It gives people a chance to express their love for others around them," senior Natalie Farello said. 
According to Valentines Gifts For Her, the first Valentine's Day card was written by Charles the Duke of Orleans from his prison cell in the Tower of London in 1415 to his wife. Along with that letter he sent a biscuit from his meal, which arguably started the tradition of gift giving.
"I would value a homemade gift because it would have a lot of time put into it from the person who gave it to you which raises the value a lot," sophomore Emily Hubert said. "It shows they care more for you, and while I do love chocolate, I appreciate time and dedication more."
Starting as a Roman festival of fertility it was accepted by the Catholic church after a bishop named Valentine was executed by a roman emperor for giving the gift of marriage during war time.
"Valentine's Day should be celebrated with your boyfriend/girlfriend or just with your friends because it's a good reason to spend time with them," senior Lila York said. "I'll probably just spend time with my boyfriend and maybe grab some food to go." 
According to National Today, singles awareness day on February 15 is a day for empowerment and self love rather than the normal commercialized tradition of Valentine's Day .Often couples go out on a date to a fancy restaurant, or watch a movie, whereas single people often try to celebrate in the same ways but with other single people.
"I think single people should definitely still celebrate Valentine's Day and just get together with a group of their friends to celebrate their great friendship," York said. "Valentine's Day celebrates love in general so it doesn't just have to be with a significant other, it can be with the friends you love as well." 
With social distancing and COVID-19 protocols in place, students have to adapt in order to celebrate the day with their loved ones.
"I hope I can see my girlfriend at a distance, and if we can get COVID tests we can be close together," Farello said. "I miss her so much, as I haven't been able to see her very often due to the pandemic. I want to spend the day with her and remind her how much I love, adore and appreciate her."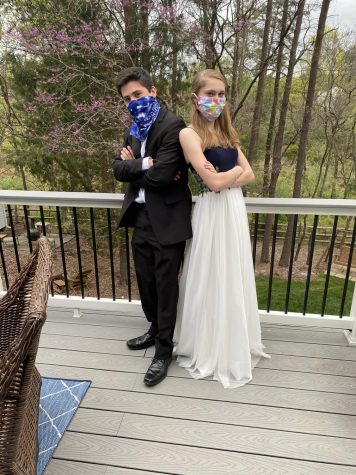 According to Morton Pony Express, Bishop Valentine performed secret weddings for people against the orders of Emperor Claudius II, and was executed. It is widely believed that because of his actions, Valentine's Day has been visualized as a time of romantic gestures and is seen as the best time for romantic acts. 
"I don't think a romantic gesture is more powerful on Valentine's Day than any other day. To me, it's the little gestures every day that add up and actually mean something to me rather than one time on one designated day," York said. 
According to Statista, Valentine's Day is one of the most commercialized holidays and brings in $20 billion annually. 
" I value any gift I get. I would love a store bought gift and a homemade gift just the same. I know it's cheesy, but it really is the thought that counts," Farello said. "When I know someone has put their love into a gift for me, whether they took the time to buy it or make it, I am happy and grateful."