March Madness set for tournament like no other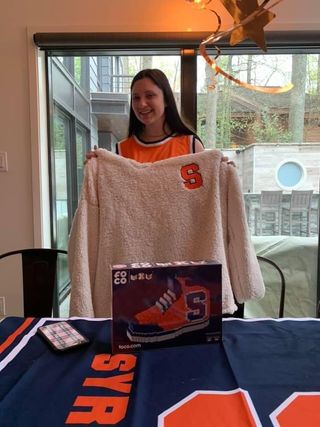 Electric crowds with relentless school spirit, Cinderella stories and clutch game winners are just some of the many aspects that make the annual National Collegiate Athletic Association (NCAA) Division 1 basketball tournament unique. Most widely known as March Madness, the 2021 tournament will have new rules and regulations in order to accommodate safety protocols for COVID-19.
The tournament will still consist of 68 teams with four teams eliminated in the first round of the tournament and the remaining 64 teams divided into four groups in a single-elimination event. However, two of the most notable changes include having the entire tournament located in Indiana and limiting fan attendance. Athletes, coaches and essential staff are allowed to invite up to only six family members. For fans, a maximum 25% capacity will be enforced for all rounds.
Due to these changes, both participants and viewers will have a different experience during March Madness. Junior Andrew Tacinelli believes that the lack of passionate fans within the stadiums will significantly impact the mood of the games.
"I think that the atmosphere and the feeling of March Madness will be completely thrown off for the players," Tacinelli said. "It's usually a very big deal with packed stands and fan sections, so not having that will definitely have an effect on the feel of it as a whole."
Some fans also expect the result of the games to be affected as well, as large crowds can give the players a boost in confidence and performance.
"I definitely think [limited fan attendance] could affect the outcome of some games because the adrenaline [players] get from the fans is crazy," junior Katherine Richer said. "Especially during March Madness, games can change in a matter of minutes, and most of that comes from the fan's energy."
On the other hand, some people see the reduced number of fans as a potential benefit for players. With no deafening crowds this year, the communication among the players and coaches will be easier and clearer.
"Although having fans is super exciting, I think [having less] can really help [the athletes] focus better," senior Lindsey Lim said. 
Because last year's tournament was canceled due to the pandemic, freshman and sophomore players, who make up around half of most teams, will be coming onto the court this year with no previous NCAA tournament experience. Varying numbers of freshmen and sophomore players on each team raises the possibility for imbalance in experience, which may affect how far a team goes in the tournament. Additionally, this increases the chances of upsets and unexpected success from lower-ranked teams.
"You never know what could happen with March Madness," Lim said. "Not having March Madness last year just means that teams have been preparing extra long and hard to win. I can tell it's gonna be a really entertaining month because I know that all these teams are gonna give it their absolute all." 
The tournament will begin on March 18, with the championship on April 5.