Bullet journaling improves productivity, creativity, health
An intricate organizational system, bullet journaling, serves a multitude of purposes: some of them being journaling, drawing, note-taking, planning and virtually anything that one would like to put down on paper.
 Created in 2013 by New York based designer Ryder Carroll, this hobby gained popularity in the past several years. In 2018 alone, consumers have spent nearly $210 million on unruled spiral and composition notebooks solely for bullet journaling.
"In my bullet journal, I keep track of different tasks, events, due dates, etc.," junior Taylor Ko said. "It's pretty similar to an agenda but prettier."
The appearance and content of each bullet journal vary according to the person, but they often have similar structures and page ideas. Most bullet journals contain pages like monthly logs, habit trackers and daily to-do lists, as well as calligraphy and drawings to make them more aesthetically pleasing.
"I also track certain habits I want to focus on keeping that month and my mood," Ko said. "Sometimes, I use my old bullet journals that have a few empty pages left to plan the next month's spread or just to doodle and work on my calligraphy."
To start a bullet journal, the only necessary supplies are a notebook and a writing utensil. Markers, colorful pens and stickers are additional supplies that can help make a bullet journal more pleasing to the eye. This art is all about showcasing individual personality and flair, so it can be customized accordingly. 
"Sometimes I look at spreads on Pinterest for inspiration," senior Anushka Motaparthy said. "Other times I just draw whatever comes to mind, which usually happens when I'm doing a more creative spread."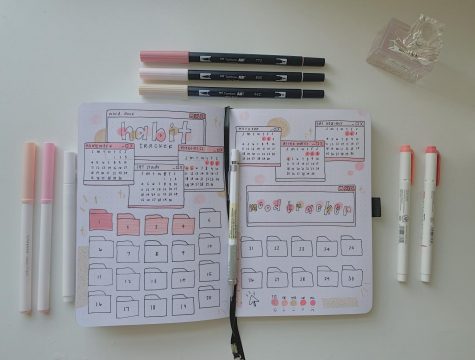 Not only is bullet journaling a great way to practice one's art skills, but it also promotes organization and inspires productivity. In addition, bullet journaling is known to lower stress levels and reduce symptoms of depression and anxiety. A study in the Journal of Affective Disorders showed that after three days of keeping a bullet journal, people with major depression disorders showed a significant, positive change in their mental health.
"Bullet journaling always tends to calm me down when I'm feeling stressed or overwhelmed," Motaparthy said. "It's really therapeutic to just write, draw or paint and helps me take my mind off of things."
The art of bullet journaling is meant to keep track of the past, organize the present and plan for the future. By blending organization and creativity, these journals allow authors to visibly record their progress, giving them the opportunity to see how far they've come since their first page.
"I feel like everyone has that certain something that they go to in order to calm them down, and for me, that's bullet journaling," Ko said. "Bullet journaling just allows me to write down or draw anything I'm feeling, and I can always come back to look at what I was doing in past months if I feel like reminiscing. To me, I find that it's always nice to flip through old spreads and see what I was up to in those past months."